Dream Garage: Ian Callum, legendary designer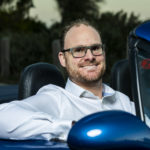 Thursday 2nd February, 2023 - 6:20am
You may not know the name, but you know his cars.
Ian Callum has spent more than five decades designing cars and has had a hand in some of the more beautiful creations in recent memory, from HSV to Aston Martin.
He started his career with Ford where he played a role in such iconic cars as the Ford RS200 and Escort RS Cosworth. After a stint at Ghia Design Studio he started TWR Design, with Tom Walkinshaw and Peter Stevens, where he was involved with the creation of the 1996 HSV GTSR and Nissan R390.
But his defining car was the Aston Martin DB7, a breathtaking return to form for the British brand. In 1999 he became head of design for Jaguar, and also oversaw Aston Martin for a time as well. But it's his work with the 'leaping cat' brand that he's best known for, overseeing its transformation from retro styling to its current contemporary image.
After 20 years he left Jaguar in 2019 and these days he works for his own design consultancy, Callum Designs, that has allowed him to stay in the automotive space but also expand beyond it and into the worlds of bespoke furniture and fashion pieces.
The Callum Design team was responsible for shaping the Prodrive BRX Hunter Dakar Rally machine and its most recent motoring project is the Callum Vanquish 25 – but more on that later…
For a man so deeply involved in the car industry for so long picking a three car garage wasn't an easy task, but Callum managed and came up with quite the trio.
Daily Driver: Volkswagen Transporter
Yes, that's right, the man responsible for some of the sleekest and sexist cars of the last 30 years drives a van. But for very practical reasons, and of course being a designer, he hasn't left it standard.
"I'm very fortunate to have a couple of daily drivers but my go-to vehicle is usually the Volkswagen Transporter," Callum tells Torquecafe. "That might surprise you, but I really enjoy driving it and the feeling of confidence it evokes. It started out as a stock 2.0 32 T6 but like most cars I've owned, I couldn't resist a few worthwhile improvements and put my mark on it. Lowered with stiffer suspension and anti-roll bars, on 20-inch rims and all black, it's now perfect for travelling up and down to Scotland.
"I spend a lot of time on the South Coast of England and these vans are very much in vogue at the beach here. I haven't quite resorted to strapping a surfboard on it, but I regularly sling a pair of mountain bikes in the back. I do around 20,000 miles a year and this van eats up the miles effortlessly. You sit high, it's comfortable and goes so well. It's the perfect daily for me."
Something Special: Callum Vanquish 25
The Aston Martin Callum Vanquish 25 by R-Reforged, to give it its official name, is Callum Design's first major automotive product. As the original designer of the 2001 Aston Martin Vanquish, Callum knows his way around the car, but he also knew it could be better.
READ MORE: Callum Vanquish 25 – How Aston Martin is improving its classic models
So Callum Design partnered with R-Motorsport (a long-time Aston Martin partner in racing) to create 25 custom-made and modernised versions of the Vanquish.
"Predictable maybe but I've chosen our Callum Vanquish 25," Callum says. "Right now, we are now back in full swing at our facility in Warwick building the first customer cars. The Callum Vanquish 25 brings this special V12 Aston Martin right up to date, injecting new ideas and technologies to create what we feel, is the ideal GT and a true dream car. Each one is unique and thoroughly rebuilt, incorporating more than 350 changes. It's a methodical conversion, blending the analogue character of the original with sharper handling, increased performance and a more bespoke finish.
"Even though I've been lucky to have the chance many times over to specify the build of a car, I still find it a privilege to be able to choose an individual specification. We go further at Callum, with every element customisable, right down to the message that appears on the fuel filler cap."
But Callum doesn't just want one of the 'standard' 25 special editions, he would make his dream version unique.
"I am going to go further and be a touch controversial and specify mine as a wagon," he admits. "It's something we've investigated as a concept and I think it looks glorious. We could build one for a customer too….
"I would spec mine in the deep metallic blue that we first revealed the first car in. The interior would be tan and although we offer manual and even torque convertor box options, I would stick with the factory automated manual. It actually works very well."
Track Toy: Porsche 911 (993)
He may have spent most of his career working for iconic British brands, but Callum can appreciate greatness wherever it comes from – even his former arch-rivals. Which is why he already owns his ideal track plaything, a 993-generation 911 with some tweaks to make it extra special.
"Once again, I am fortunate to already own the track car I would want in my dream garage," he says. "It's a 993 and of all the 911s, this is my favourite iteration, created by dear friend Tony Hatter. I bought it in this track-focussed specification and it's perfect in my eyes. The modifications from Roock Racing mean it's a really engaging car to drive on the road or track. 3.8-litres and 300bhp, it's also leaner thanks to stripping out most of the interior and features some handy upgrades such as carbon seats, though I must admit, it still has a radio! It's also lowered, with a track set-up that isn't too uncompromising on the road. No matter where I drive, this 911 ranks as one of the best cars I've owned."