Stadium Super Trucks to race Road America August 23-25, 2018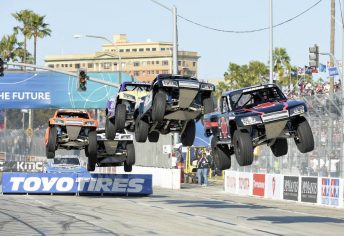 Road America has announced the addition of the SPEED Energy Stadium SUPER Trucks (SST) to the racing lineup for the NASCAR XFINITY weekend of August 23-25.
Led by the NASCAR XFINITY Series, the weekend also features SCCA Pro Trans Am providing non-stop, on-track action from three separate series' throughout the weekend.
The Stadium SUPER Trucks will take to the track many times throughout the weekend, holding practice and qualifying on Friday prior to the first SST race. The second SST race will take place in advance of the NASCAR XFINITY Series race on Saturday.
"We always enjoy adding more for our fans to experience and the Stadium SUPER Truck Series is the perfect combination for our fans and our facility," said Road America President and General Manager George Bruggenthies. "Wisconsin is truck country and this is going to be a new and incredible experience for our fans. We encourage everyone to stake out a good viewing spot because it's going to be wild watching these racers race, jump and fly through the air around our legendary racecourse."
The widely popular Stadium SUPER Truck Series features identically prepared 650-horsepower trucks that are built to take flight. Being able to race on virtually any surface thrown at them, the Stadium SUPER Trucks will race the front half of Road America, crossing between turns 5 and 13 as compared to the entire 4-mile circuit utilized by NASCAR XFINITY Series and the SCCA Pro Trans Am Series.
The Stadium SUPER Truck races will feature four 36-inch tall aluminum ramps placed in strategic locations on the racecourse, allowing the trucks to fly 20 feet off the ground and hundreds of feet down the racecourse.
"For Stadium SUPER Trucks to visit Wisconsin and America's National Park of Speed, I cannot be more excited," Stadium SUPER Trucks President Robby Gordon said. "Along with other racers, I've been fond of Road America for many years. To bring the door-to-door action and the big air of Stadium SUPER Trucks to Road America for the first time, the fans are going to be ecstatic for Stadium SUPER Truck racing."
The NASCAR XFINITY Series rolls into Road America August 23-25, bringing intense door-to-door stock car, sports car and now truck racing action to the nation's most intimidating road course. The NASCAR XFINITY Series schedule and the event could prove to be a pivotal race for drivers looking to improve their standing in the championship points. The event weekend will feature practice, qualifying and racing from the SCCA Pro Trans Am and the SPEED Energy Stadium SUPER Trucks.
Advance pricing for Road America season passes is available from October through December and 2018 event tickets and camping are now available. To purchase season passes, tickets or learn more about upcoming events at Road America, please visit Road America online at www.roadamerica.com or call 800-365-RACE (7223).
The newly announced last SST event of 2017, the first annual SPEED Energy Stadium SUPER Trucks World Championship Finals are to take place December 15th & 16th at Lake Elsinore Diamond Stadium in beautiful Lake Elsinore, California.
Featuring a full field of Stadium SUPER Trucks, Production 1000 UTV's, Modified Trophy Karts, and 170 UTV's.
Reserved tickets are on sale NOW at http://www.stadiumsupertrucks.com and http://www.stormbaseball.com or the Lake Elsinore Diamond Stadium Box Office.
Suites to enjoy the race in luxury are also available, along with vendor locations for the Off-Road Vender Village. Please email inf[email protected] for additional information and pricing.