Primat taking the positives from problematic Bathurst 12 Hour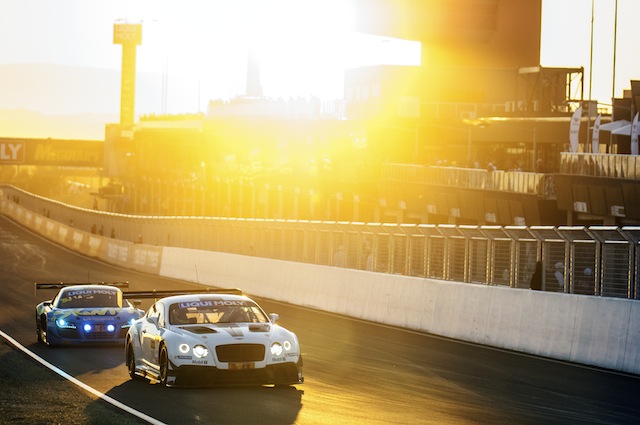 Harold Primat's eventful Bathurst 12 Hour came to an end just 60 minutes before the scheduled finish at Mount Panorama on Sunday (February 8) after a drivetrain failure sidelined his works Bentley Motorsport Continental GT3.
But despite several problems hampering the #11 machine's progress throughout one of the world's blue riband endurance races, there were still several positives to take from Primat's first appearance in the same car with which he'll contest the Blancpain Endurance Series as a Bentley Team HTP driver this season.
Andy Soucek's practice accident on Friday set the tone for a tough few days Down Under that saw the crew lose valuable track time before qualifying outside the top-20.
The car clearly had pace though, as demonstrated by Maxi Buhk whose good early work helped the trio move up to 13th.
Primat was next aboard but unfortunately soon fell foul of the Safety Car regulations governing green flags, which lead to a drive-through penalty.
Despite that contributing to the car dropping a lap down, the cockpit air conditioning failing, and the combination of Harold's height and short pedal box making driving conditions uncomfortable, the crew were able to claw their way back up to 10th overall before an unscheduled pit-stop cost more time.
A related drivetrain issue, the result of rear-end damage, roughly 40 minutes later ultimately proved terminal.
"Obviously we were hoping for a lot more," confessed Primat, who finished second overall at the same race 12 months ago.
"But a lot of things conspired against us that meant we weren't able to demonstrate the car's true potential. It's a real shame because it clearly has pace, as our team-mates in #10 showed by finishing fourth.
"It's difficult to replicate the same conditions in testing and this was my first opportunity to drive the car over an endurance distance, which highlighted a problem I have with the pedal box.
The combination of me being very tall and its position being too close makes driving uncomfortable after a certain amount of time.
That's disappointing because I don't feel like it allowed me to drive to my full potential. I understand it's something Bentley will be discussing with the rule-makers ahead of the European season, and hopefully they'll be given some dispensation to make minor changes in that area.
"If we can get that sorted then I'm happy to put this year's Bathurst 12 Hour down as a learning experience that hopefully we can use to our advantage over the rest of the year.
"Spa and the Nurburgring's 24-hour races are a big deal to me this season, so making sure we're all comfortable in the car for those is paramount."
Primat's first competitive outing with Bentley Team HTP comes at Monza's Blancpain Endurance Series opener on April 11/12.