MEDIA RELEASE: They started the 2015 season in the best possible way with victories at the Rolex 24 at Daytona and the 12 Hours of Sebring, now Jan Magnussen and Corvette Racing will be out to repeat those performances when the 2016 IMSA WeatherTech SportsCar Championship kicks off this weekend.
The Rolex 24 at Daytona kicked off today with added interest in the GTLM class where Corvette Racing shone bright in the opening two endurance events last year.
New technical specs have made the cars faster with added downforce. Both Corvette and Porsche have updated their race-winning machines from last year while Ferrari and BMW will debut new cars this weekend.
To make the the competition even tougher, Ford will make its race debut with a two car team featuring Magnussen and Antonio Garcia's endurance co-driver from last year, Ryan Briscoe.
Corvette Racing however has excelled in finding new enduro aces for both Magnussen's No.3 machine and the No.4 Corvette of Oliver Gavin and Tommy Milner.
Two drivers who both have overall victories at the 24 Hours of Le Mans – Mike Rockenfeller and Marcel Fassler – will co-drive the No.3 and No.4 machines.
Rockenfeller made his debut with the team at the recent Roar before the 24 test with Magnussen and Garcia while Fassler makes a return to Corvette Racing – the Swiss driver was part of the Corvette Racing squad in 2009.
The No.3 Corvette was very strong during the Roar before the 24 test at Daytona, particularly on the final day. The team was second fastest in the Sunday morning session and then Magnussen topped the timesheet in the final session of the test.
All teams endured soaking wet track conditions today in Daytona. Jan Magnussen was fastest on his first run in the GTLM qualifying session. However, after qualifying resumed after a red flag stoppage, the Danish ace suffered a set-back.
"Today was less than ideal in a number of areas," Magnussen said.
"The conditions have been far from perfect but we had a really good Corvette. We also had a problem with the windshield fogging, which meant I couldn't go when the track got better. It's a long race, and we have a really good record of success in the endurance events. We will be fine."
The Magnussen/Garcia/Rockenfeller Corvette will start 9th in class when the green flag drops at 2:40pm on Saturday.
Rolex 24 at Daytona – GT Le Mans (US Eastern/Denmark)
Friday, January 29, 2016
10:25 am -11:25 am / 4:25 pm – 5:25 pm: Practice #4 – WeatherTech (All Classes)
Saturday, January 30, 2016
12:00 pm -12:45 pm / 6:00 pm – 6:45 pm: WeatherTech Autograph Session
2:40 pm / 8:40 pm Start: 54th Rolex 24 At Daytona
Sunday, January 31, 2016
2:40 pm / 8:40 pm: Checkered flag
US TV Schedule
Saturday, Jan. 30
2:00 pm: FOX Sports 1
4:00 pm: FOX Sports 2
10:00 pm: IMSA.com
Sunday, Jan. 31
7:00 am: FOX Sports 1
10:30 am: FOX Sports 2
1:00 pm: FOX Sports 1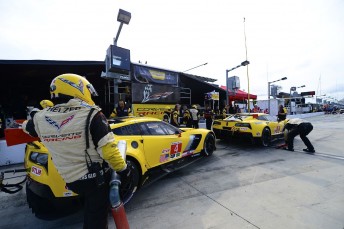 JAN MAGNUSSEN Q&A
Q: What was the secret to success in last year's Rolex 24 at Daytona?
JM: "I think last year for us was a fantastic race all the way through. We had a fast car, we made good decisions, we stayed out of trouble and pretty much made sure that when we got to the end of the race we still had a fast car with no damage and everything was working perfectly, I think. Last year was as close to the perfect race as you get."
Q: What were the key lessons learned from the recent Roar before the 24 test?
JM: "We got through a bunch of stuff on the car. It was difficult to gauge anybody's speed at the test because people are doing their own programs and maybe not running as hard as they can. For us, at least, it was more learning about the car because we did some pretty big upgrades – especially on the aero side -which we need to try and understand. I think we did well getting through our program to prepare ourselves the best we can for the race."
Q: Does the extra downforce make the Corvette C7.R nicer to drive?
JM: "A little bit, you can feel the extra downforce, which is nice, but you're still working to optimize it but it will help a little bit in traffic I'm sure, where you can pick and choose your lines a little more freely. When you're completely trimmed out you only have one line to run.
"In that respect, it will be a little nicer but for us it's really about getting the balance and having as much downforce as we need for the infield and having all the top speed that we need on the oval, so it will be a trade off again. We won't just put all the downforce in like we would at a place like Long Beach. We need the top speed so it will be trimmed out again, I'm sure."
Q: With the Ford guys coming in, does this motivate everybody on the team because the bar has been raised again? Is this the toughest kind of GT competition in the world?
JM: "For sure! This will be the first race where we race against the new Ford, the new Ferrari and the new BMW so we will have to see where we are against those guys. I have a good feeling about the whole thing, but you never know until after qualifying where everybody stands.
"It's always exciting when you get to the first race and for the first time meet your new competition. I'm looking forward to it."
Q: What are the main differences between the 24 Hours of Le Mans and the Rolex 24 at Daytona?
JM: "At Daytona, you're always in traffic, more or less every single lap you will be driving amongst other cars so that makes it a little more difficult. Although the night is longer at Daytona, the lighting situation is really good so it's not a big issue when the sun goes down. At least not from a darkness point of view.
"It's more with the temperatures and stuff like that that you may start having problems, like how to get your tires working at the right temps.
"But there is more traffic, it's just something that you have to deal with. I think it's something we did really well last year. We were patient in traffic, fast and made good decisions. I won't say that luck is a part of it, but you can only try to control your own decisions, what everybody else does is maybe down to luck. It's not always your decision that will take you out of the race. It could be someone else."
Q: How well did Mike Rockenfeller fit in at the test in his debut for Corvette Racing?
JM: "Mike did really, really well at the test. He got in the car, he learned about all the systems, he learned about the crew and everything and he was fast immediately. I'm really, really looking forward to these two races with him as a teammate with myself and Antonio. I'm sure we can do well together."
Q: Why does Corvette Racing traditionally perform so well in these long distance endurance races?
JM: "These races are a lot harder for the mechanics than for the drivers. We're on for two or three hours at a time and then we get a nice long break before we get back in. The guys in the pits are on for the whole time.
"They are there ready for anything. It's Daytona, the facilities in the pit lane are pretty much non-existent, we have a tent and it's cold and noisy.
"There's no place like Le Mans where they can go and try to sit and relax for a little bit. They're there for the whole time focused on what we're doing. It's a lot tougher for them. Those guys, every year, do a fantastic job all through the race. It's already been a long day before the 24-hour race goes green so it's tough. I'm glad I'm a driver!"
Q: How big of a challenge is it to have to start the season with the longest, and one of the toughest races of the year?
JM: "It's now the third year with the C7.R so we have a lot more knowledge about the car and we know the strengths and the weaknesses a lot better than the first year we ran it. The guys with the brand new cars are probably in a little bit different situation than us and Porsche. It's a big development on the Corvette this year but it's not a new car.
"So going into a 24-hour race with a brand new car is always a little bit of a risk, but that's how it is. Everybody has been working for that but it is tough. I like the idea that at least we have a car we know a little bit more about."