Virgin Australia Supercars Championship drivers have today helped to unveil a new-look KISS tram in Newcastle's CBD, to promote what will be arguably one of the biggest events held in the region.
David Reynolds, the 2017 Bathurst 1000 and 2018 Newcastle 500 race winner and his Penrite Racing teammate Anton De Pasquale joined Newcastle Lord Mayor Nuatali Nelmes to unveil the tram, which will be covered in Supercars and KISS images, helping to promote the upcoming Coates Hire Newcastle 500 and the unforgettable final concert in Newcastle of KISS, one of the biggest rock bands of all-time.
Reynolds said it is a great honour to see his 2018 celebrations in Newcastle feature in the image on Newcastle Light Rail.
"It's very cool to be up there alongside KISS," Reynolds said. "Newcastle is one of my favourite events. The street circuit is one of the hardest we race on and the fans embrace us like nowhere else.
"There's less than 100 days to go now, so looking forward to getting back here in November for another big weekend on and off track."
Coates Hire Newcastle 500 Event Manager Kurt Sakzewski said he expects fans to take advantage of the light rail services to get from the track to the concert on Saturday 23 November.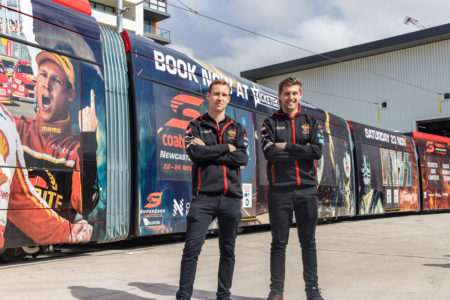 "We're very pleased that Newcastle City Council is supporting the event and helping Supercars to spread the word with an advertisement of this size," Sakzewski said.
"We're expecting KISS and the Screaming Jets to bring in another huge crowd of local fans and visitors that we anticipate taking full advantage of the light rail and other local public transport services.
"Light rail services will be running through to 1:00am Sunday morning, with increased service levels to handle the event crowds.
"Train services will run toward the Central Coast and Sydney Central up until 11:40pm on Saturday night as well, to cater for fans heading south after a huge day of racing and the KISS concert."
More than 162,000 fans attended the three-day Coates Hire Newcastle 500 in 2018 with another strong crowd expected to fill the streets of Newcastle again in November.
The Coates Hire Newcastle 500 is the season finale of the 2019 Virgin Australia Supercars Championship and will run from 22-24 November on the streets of Newcastle's CBD.
Tickets are still available to the event, special ONE LAST KISS or GOLD tickets are available for fans to gain access to a full day of racing and the Saturday night concert, featuring international superstars KISS and Newcastle's own Screaming Jets.
The Coates Hire Newcastle 500 was secured exclusively for Newcastle for five years by the NSW Government via its tourism and major events agency, Destination NSW, in partnership with the Newcastle City Council.