Joey Mawson set for German F4 Opener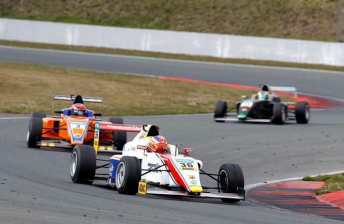 Australian Joey Mawson will begin his campaign in the German F4 Championship at the Oschersleben circuit this weekend.
After completing his pre-season testing recently by posting the second fastest time, the CAMS Foundation-backed driver is high in confidence entering his second season of open-wheeled competition.
"After gaining a lot of experience last year competing in the French F4 Championship, I'm really excited ahead of this weekend's opening round in the German Championship," said Mawson.
"In last year's Championship, all of the cars were prepared from a central base whereas this year's German Championship has professional teams run all of the cars.
"I feel as though I'm fitting in well at the team and by posting some very competitive times during the final pre-season test I'll be aiming for a top result this weekend."
The German F4 Championship will see a capacity field of 42 cars entered by 18 teams. Lining up alongside Mawson in the Van Amersfoort Racing team will be Mick Schumacher, the teenage son of the seven-times world champion, and Harrison Newey, son of the celebrated F1 designer Adrian Newey.
The starting grid at the Motorsport Arena Oschersleben will be a truly international one with teams from Germany, Austria, Switzerland, the Netherlands, Denmark and Italy fielding youngsters from 13 different countries.
The Championship will line up five times at German race circuits – in Oschersleben, at the Lausitzring, Nürburgring, Sachsenring and in Hockenheim.
Two events will be conducted at current Formula 1 circuits outside of Germany's borders – at the Red Bull Ring in Austria and at Spa Francorchamps in Belgium.