Jacobson prepares for enduros with bike gallery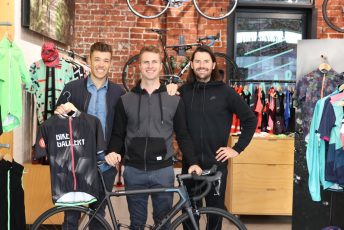 Garry Jacobson is preparing to step up in the Supercars Championship Pirtek Enduro Cup alongside Jason Bright for Prodrive Racing Australia.
Jacobson will be driving alongside Bright for this years Supercars Championship Endurance Events, and has prepared for the challenge with the support of Bike Gallery and MEGA Fuels.
Provided with a new Focus Izaclo Max bike from the store in Melbourne's Hawthorn East, Jacobson has worked on his fitness through cycling training.
"Cycling is something I enjoy a fair bit, and since I've had the support from bike gallery I've had the best equipment possible to keep fit and healthy for my racing in the Super2 series. It's great to have the new Focus Izaclo Max and to be able to get outside and experience some of the best places to go riding up in the Far North Queensland mountains. I really enjoy that type of training and find it really beneficial as I prepare to head into the intense Supercars Championship enduro races."
Bike Gallery's Cameron McDonald is pleased to see Jacobson carry the Bike Gallery logo on his Falcon in the Super2 Series.
"Garry was a long time customer of ours, and when we found out his involvement with Supercars we started supporting him along the way. A lot of Supercars drivers use cycling as an important part of their training and we really love to encourage anyone to use a bike. It's great to have someone successful like Garry who trains hard and flies our flag in motorsport."
Jacobson is now preparing for Round 5 of the Super2 Series at the Townsville 400 on July 7-9, with all Races to be televised LIVE on Fox Sports.