Enaam Ahmed crowned 2017 BRDC British F3 champion with superb Snetterton victory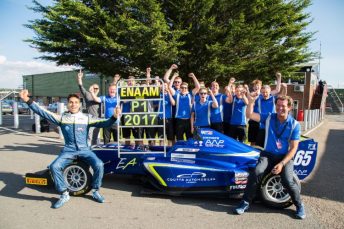 Enaam Ahmed is the 2017 BRDC British F3 Champion, after controlling the third race of the weekend at Snetterton this afternoon. He joins names such as Ayrton Senna, Mika Hakkinen and Daniel Ricciardo as a British F3 champion.
Carlin and Enaam Ahmed are celebrating tonight, after the 17-year-old secured the 2017 BRDC British F3 Championship title in style at Snetterton today (27 August) with his 12th victory of the season. Ahmed made a great start from pole position, and despite immense pressure from Lanan Racing's Toby Sowery, held his nerve to secure this year's title with three races still remaining.
Douglas Motorsport's Jordan Cane had earlier secured his second victory of the season with a great drive in this morning's race.
Race two
Cane dominated the second race at Snetterton to claim his second win of the year, while Ahmed edged even closer to the title with fifth place.
Cane passed pole sitter Guilherme Samaia early in the race and then stormed away at the front, while Samaia still secured his best result of the year in second, with Ben Hingeley third.
Toby Sowery claimed fourth for Lanan Racing, while fifth place for Ahmed and only 13th for James Pull meant Ahmed was on the verge of securing the title.
Pole sitter Samaia made a great start to lead into the first corner, while Cane slotted into second with Hingeley making a strong start to climb from fifth to third. Further down the order though, it was almost disaster for James Pull, with an incident relegating him well down the order to 13th at the end of the first lap, while team mate Cameron Das pitted to repair damage. Crucially, Pull was able to keep going, as a failure to finish would have potentially opened up the opportunity for Ahmed to win the title at the first opportunity.
Samaia led by just 0.229s at the end of the first lap, and Cane pounced on the second lap to take the lead. The 16-year-old then proceeded to pull away at a rapid rate, leading by 1.5 seconds at the end of lap two, and eventually taking the win by 6.4 seconds.
Behind Cane, the race was wide open, with Samaia fighting off the race-long attentions of Hingeley, while Sowery surged from seventh on the grid to fourth, and within striking range of a podium finish. Fourth though was not enough for Sowery to remain in the title fight heading into the final race of the day.
Ahmed was seventh at the end of lap one, but passed Jamie Chadwick for sixth on lap two, although the Double R racer kept him under pressure in the early stages. Ahmed though eventually broke clear and moved into fifth place on lap eight, which he kept to the flag. Fifth though wasn't quite enough to scoop the title at the first attempt, but did mean that all he had to do going into the final race was complete the 10 laps to win the championship.
Race three
Ahmed secured the title in style after fending off Toby Sowery to take his 12th victory of the year in the final race of the weekend.
Ahmed started from pole, and after resisting a race long challenge from Sowery, crossed the line less than half a second ahead of the Lanan racer to secure the championship in the best way possible. His only mathematical title rival, team mate James Pull, needed to win and for Ahmed to fail to finish to stand any chance of taking the title battle to Donington, and despite a strong start to rise from 11th on the grid to seventh at the end of the first lap, Pull was unable to make any further progress.
Ahmed made a great start to lead into Riches on the first lap with Sowery following suit in second. Sowery put the champion elect under massive pressure throughout with the gap constantly at around half a second, with the pair exchanging fastest laps, but Sowery wasn't able to force a move, with Ahmed crossing the line at the end of ten laps to the adulation of his Carlin team. Jordan Cane backed up his earlier win with third place, with Callan O'Keeffe fourth and just 0.617s behind.
Krishnaraaj Mahadik capped off a strong weekend with fifth place ahead of Hillspeed with Cliff Dempsey Racing's Chase Owen. Pull was seventh, a result that now puts him behind Sowery in the championship standings, with Fortec's Ben Hingeley finishing eighth on the road but handed a two second time penalty post race after an incident with Cameron Das who benefited to take the position and and also scooped the Sunoco Fastest Lap Award. Hingeley had to settle for ninth with Guilherme Samaia completing the top-10.
Ahmed, who celebrated his title success with an exuberant display of doughnuts on the slowing down lap, joins the likes of Ayrton Senna, Mika Hakkinen, Daniel Ricciardo and last year's winner Matheus Leist as a British F3 champion. He also secures 10 of the 40 FIA Super Licence points required to become eligible for an FIA Super Licence.
The champion commented: "It's been a pretty emotional year, we've been working together and working towards this for over a year. There's a lot of people that have come with me on the road to this and I'm really thankful for that.
"I'd like to say a big thanks to Carlin, so to Trevor [Carlin], Mark, my mechanic Matt, Sam, all the guys have been really good to me this whole season. I'd really like to say a big thanks to Trevor for signing me for this year and for believing in me. He thought I had the potential at the end of last year so I'm really grateful that he wanted me to drive his car, and thanks also to my parents and my coach Roberto who comes all the way from Brazil. Without him, the last year and a half wouldn't really have be possible.
"Where it goes from here is up to Trevor and I hope he can help me out with that. Hopefully I can stay with them next year and stay in an F3 car in Europe."
The final three rounds of the 2017 BRDC British F3 Championship take place at Donington Park on 23-24 September, with all the latest news available on the BRDC British F3 website.
BRDC British Formula 3 – Snetterton 300 – Race two top-10:
1. Jordan Cane, Douglas Motorsport, 10 laps
2. Guilherme Samaia, Double R Racing, +6.431s
3. Ben Hingeley, Fortec Motorsports, +6.902s
4. Toby Sowery, Lanan Racing, +7.413s
5. Enaam Ahmed, Carlin, +8.692s
6. Krishnaraaj Mahadik, Double R Racing, +11.570s
7. Jamie Chadwick, Double R Racing, +12.595s
8. Omar Ismail, Chris Dittmann Racing, +15.881s
9. Chase Owen, Hillspeed with Cliff Demsey Racing, +17.915s
10. Nicolai Kjaergaard, Fortec Motorsports, +21.298s
BRDC British Formula 3 – Snetterton 300 – Race three top-10
1. Enaam Ahmed, Carlin, 10 laps
2. Toby Sowery, Lanan Racing, +0.455s
3. Jordan Cane, Douglas Motorsport, +4.810s
4. Callan O'Keeffe, Douglas Motorsport, +5.427s
5. Krishnaraaj Mahadik, Double R Racing, +11.182s
6. Chase Owen, Hillspeed with Cliff Dempsey Racing, +11.529s
7. James Pull, Carlin, +12.934s
8. Cameron Das, Carlin, +14.759s
9. Ben Hingeley, Fortec Motorsports, +16.401s
10. Guilherme Samaia, Double R Racing, +17.706s
BRDC British F3 Championship – Standings after race 21:
1. Enaam Ahmed, Carlin, 575pts
2. Toby Sowery, Lanan Racing, 432pts
3. James Pull, Carlin, 430pts
4. Cameron Das, Carlin, 375pts
5. Ben Hingeley, Fortec Motorsports, 372pts
6. Callan O'Keeffe, Douglas Motorsport, 349pts
7. Chase Owen, Hillspeed with Cliff Dempsey Racing, 246pts
8. Jamie Chadwick, Double R Racing, 227pts
9. Nicolai Kjaergaard, Fortec Motorsports, 221pts
10. Omar Ismail, Chris Dittmann Racing, 216pts