Burdon dominates FRD LMP3 finale, claims second outright for 2017 season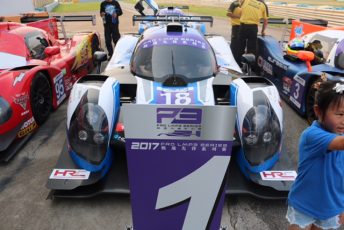 Australian Josh Burdon has finished as runner-up for the inaugural FRD LMP3 Series, taking out the final race win of the year at Zhuhai International Circuit this weekend, 15-17th September 2017.
The KCMG driver threw everything to secure result, after topping practice and recording an impressive pole position (including setting a new record), Burdon handed over the car to teammate Neric Wei with a 25 second lead for today's win.
"It's great to get the win, since we've been very close a few times, and I think on average we'd have been the fastest car all year," said Burdon, "we've had a bit of bad luck along the way, so I'm very happy to get this one over the line".
"A very big congratulations to KCMG and Neric for a really great drive in that stint, to bring us home the win."
Topping the final free practice session, Burdon managed to clinch the final pole position of the year with a time of 1:32.560, made a little more difficult after his teammate made a small mistake and spun the car in the first qualifying session only 20 minutes earlier.
On Saturday, after taking over from his teammate in the opening race from tenth position, Burdon pumped out the quickest lap times for the day on his way to a fourth-place finish.
"A good day in the office," said Burdon, "my teammate started 12th and handed me the car in a spot where I fought to come through to finish fourth with the quickest lap of the race".
Coming into the round ranked third in the Series, Burdon lined up on pole position for the final race with a shot at the winning the Championship with a race win, which he threw everything at to ensure his teammate was in the best position, where he was able to take out the chequered flag.
"I pushed really hard right from lap 1 to get away cleanly and build a gap, so I didn't leave much in the tyres for [Neric's] stint, but I'm happy to have handed the car over with over a 15 second gap for him to get into a rhythm and bring us home the win today."
Despite the win, a third-place finish for Craft Bamboo Racing was enough for them to hold onto the Championship, with Burdon coming in second place for the inaugural FRD LMP3 Series.
"The FRD LMP3 Series has been heavily publicised as one of the most competitive line-ups of prototype drivers in the world, so I'm really proud of the immense success we have had straight out against some very strong driver pairings.
Burdon will now turn his attention to assessing options for the remainder of the year, as well as possibilities for 2018.