Blancpain GT Series Asia Suzuka-bound for first leg of Japanese double header
Abbott and GruppeM aiming to defend slender GT3 leads
Japanese race-by-race crews add variety
Lo/Tong and Merlin/Yu set to renew GT4 rivalry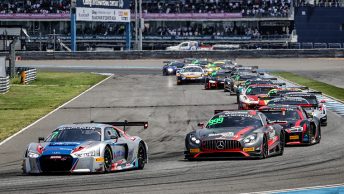 Following a month-long break Blancpain GT Series Asia's inaugural campaign continues this weekend (June 23-25) with the first event of its Japanese double-header when the world-famous Suzuka Circuit plays host to a grid of GT3 and GT4 supercars across two 60-minute races.
Suzuka features one of the world's few 'figure-of-eight' layouts, and is widely regarded as amongst the most challenging circuits in global motorsport. 18 corners – 10 of them right, eight left – make up the 3.609-mile/5.807km GP configuration, which has remained largely unchanged since first opening in 1962.
Taking on that challenge next weekend are Blancpain GT Series Asia's teams and drivers for whom Suzuka marks their third outing, as well as fifth and sixth races, of 2017. They follow rounds at Buriram in Thailand last month and Malaysia's Sepang season opener in early April.
The battle for this year's GT3 Drivers' title is already finely poised with just five points separating the top-three contenders. Victory last time out helped GruppeM Racing's Hunter Abbott establish a slender two-point lead over Audi Hong Kong's ultra-consistent pairing of Marchy Lee and Shaun Thong, while OD Racing's Mitch Gilbert and Aditya Patel are only another three points further back. Sharing Buriram's Race 2 podium ensures all three crews must now serve a pitstop success penalty during Suzuka's opening contest next Saturday.
Abbott partnered Raffaele Marciello in Malaysia but is joined at Suzuka by full-season co-driver and Mercedes-AMG factory ace Maxi Buhk, with whom he shared victory in Thailand.
"I've never been to Suzuka or Japan so I'm really looking forward to this one," said Abbott, who also leads GT3's Pro/Am standings by 23 points. "Suzuka is one of the legendary old-school circuits like Spa, Brands Hatch GP etc, which I love so can't wait to drive it! We've had some challenges so far, like starting at the back of the grid for both Sepang races and the free practice accident at Buriram, but we've managed to come back fighting every time. I'm immensely proud of GruppeM and my co-drivers – everyone's just put their heads down and powered through anyway!"
Several Audi crews also look strong ahead of Suzuka following success for its Audi R8 LMS Cup entrants at the same venue last weekend. Alessio Picariello, who reinforced his championship lead with a victory and second place, also claimed pole on his Blancpain GT Series Asia debut in Thailand. And he's now back aboard the same J-Fly by Absolute Racing entry as co-driver to Pro/Am contender Jeffrey Lee. Elsewhere, Cheng Congfu – another driver to claim an Audi R8 LMS Cup victory at Suzuka – will be hoping to get his and Sun Jingzu's Blancpain GT Series Asia campaign back on track after a tough start to the season.
Spirit of Race's Rui Aguas registered his only points of the year thus far with victory in Buriram's opening contest. His total – 25 – is the same as the team's second 488 has achieved through sheer consistency, with Jiang Xin and Massimiliano Wiser yet to finish outside of the top-10.
Several 'local' Super Taikyu teams will also be making their Blancpain GT Series Asia debuts this weekend before also appearing at Fuji Speedway in two months' time. ARN Racing duo Hiroaki Nagai and Kota Sasaki recently claimed pole position and finished third at Suzuka, and their Ferrari 488 is joined on the grid by domestic rivals Satoshi Hoshino and Seiji Ara (D'station Racing Porsche 991 GT3 R), as well as Takeshi Kimura and Kei Cozzolino (CarGuy Racing Lamborghini Huracan).
Others to look out for include Alexs Au and Yoong whose Audi R8 LMS Cup-entered, Phoenix Racing Asia-run machine has been blighted by bad luck so far, GruppeM's second Mercedes-AMG of Tim Sugden and Jules Szymkowiak, and Craft-Bamboo Racing's #99 Porsche which sees Darryl O'Young reunited with the returning Peter Li.
Another change sees Italian Super GT Cup champion and Lamborghini Young Driver Nicolas Costa join Sandy Stuvik aboard Vincenzo Sospiri Racing's Huracan.
GT3's Am Cup should be fiercely competitive, too, with Sepang race winners Gregory Teo Bee Tat and David Tjiptobiantoro (T2 Motorsports Ferrari 488) returning to fight KCMG's home favourites Naoto Takeda and Takuya Shirasaka. Both crews currently trail James Cai and Kenneth Lim in the points, but with the CMRT Eurasia Aston Martin not travelling to Suzuka it's almost certain the category will have new leaders come Sunday afternoon. The Arrows Racing Porsche, which ran in the Pro/Am class at Sepang, adds further variety.
The GT4 class also remains tight following victories for three crews in the first four races. EKS Motorsports' Eric Lo and Byron Tong have one win to their names but occupy top spot courtesy of three more second place finishes. That leaves them 11 points clear of Jean-Marc Merlin and Frank Yu whose two victories and further second place was compromised by a non-score in Buriram's first race. Elsewhere, Taiwan Top Speed Racing's Keo Chang – who currently lies third along with regular co-driver Jeremy Wang – is joined by George Chou at Suzuka.
Blancpain GT Series Asia's Suzuka qualifying session and two hour-long races will be streamed live on the championship's Facebook page and website, as well as SRO's GT World Youtube channel.
Suzuka pitstop success penalties (Race 1)
GT3
10s – Abbott/Buhk – #999 GruppeM Racing Mercedes-AMG GT3
07s – Lee/Thong – #5 Audi Hong Kong Audi R8 LMS GT3
05s – Gilbert/Patel – #86 OD Racing Audi R8 MS GT3
GT4
10s – Merlin/Yu – #77 Craft-Bamboo Racing Porsche Cayman GT4 Clubsport MR
07s – Lo/Tong – #10 EKS Motorsports Porsche Cayman GT4 Clubsport MR
05s – Chou/Chang – #17 Taiwan Top Speed Racing Porsche Cayman GT4 Clubsport MR
Suzuka schedule
Friday 23 June
12:00 – 12:50: Free Practice 1
17:00 – 17:50: Free Practice 2
Saturday 24 June
08:00 – 08:20: Official Practice
10:05 – 10:20: Qualifying 1
10:30 – 10:45: Qualifying 2
15:10 – 16:10: Race 1
Sunday 25 June
11:30 – 12:30: Race 2