John Bowe to join GT4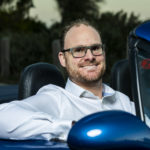 John Bowe will join the Monochrome GT4 Australia Series from The Bend Motorsport Park round on October 13-15.
The two-time Bathurst winner will drive the #32 F82 BMW M4 backed by Randall Industries/Southern BM with Jacob Lawrence at both The Bend and Mount Panorama for the Supercheap Auto Bathurst International in November.
Bowe is in his final full-time season of Touring Car Masters, where he currently sits sixth in the standings, having recently put up his TCM Holden Torana for sale amid the final races of his 'Ciao for Now' tour.
"I am transiting to retirement, but I am not retired, if you know what I mean," Bowe said.
"I have been racing since I was a child and I still love it, and when we went testing with the BMW, I was pleasantly surprised at how well Jacob drives – he drives really well.
"I will be racing with him more as a mentor and a helper than a star; I don't need to be a star, but I like being involved and really everything that I ask him to do, he does, so [mentoring Lawrence] has been quite rewarding to be honest. I am excited about it, seeing someone develop is quite satisfying.
Lawrence imported the BMW M4 that the pair will race earlier this year and has been running it on circuits around Victoria ahead of its arrival on the GT4 grid. He will compete in the car solo at the Sandown round, where four 30-minute races will take place.
"JB has been pivotal in getting myself and the car up to speed and I am looking forward to sharing the driving duties with him at The Bend and Bathurst International rounds," said Lawrence.
"I have been training hard the last few months to give myself the best chance, and of course working with John, with who I have been driving and developing the car over the past few months.
The GT4 Series will run combined with the Mobil 1 Australian Production Cars field at Sandown, and has drawn names including Paul Morris, Jett Johnson and Renee Gracie so far in 2023.