Penrite Racing reveals Indigenous liveries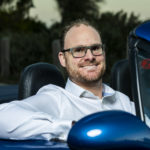 Penrite Racing has revealed its unique livery for Darwin's Indigenous round of Supercars on June 16-18, the third team to do so after Tickford Racing and Brad Jones Racing.
The Melbourne event saw the covers pulled of the one-off liveries for the #19 Penrite Ford Mustang of rookie Matt Payne and the #26 Mustang of team-mate David Reynolds, as well as the Penrite-backed Honda Superbike of Troy Herfoss, with the Hidden Valley event also doubling as Round 4 of the Australian Superbike Championship.
"Obviously, anytime you can, as a sport, recognise your first nations people [is positive]," Reynolds told Speedcafe.
"Our team's partnered with a school called MITS (Melbourne Indigenous Transition School), and they help kids from remote communities and try and assimilate them into good schools in Melbourne and give them the education," said Reynolds.
THE FINAL RACE OF THE 2023 REPCO SUPERCARS CHAMPIONSHIP ON ONE OF THE WORLD'S BEST STREET CIRCUITS. GO ALL IN AT THE VAILO ADELAIDE 500, CLICK HERE TO BUY TICKETS
"I think that is a very, very good cause. And we're raising money for it through an auction website."
Students from the Melbourne Indigenous Transition School (MITS) as well as its Director, Katrina Penfold, attended the event in Melbourne to help unveil the designs, which also include unique race suit designs.
Created by Lorraine Kabbindi White, a former educator at MITS, the designs applied to the Grove Racing Mustangs of Payne and Reynolds combine two different artworks by Ms White.
The first is 'Modjarrki – Freshwater Crocodile' which shows the long-nosed crocodile, while the second, 'Ankungh Kundred – Wild Honey Country' depicts Ms White's homeland, the Mok clan's estate.
"The partnership with Grove/Penrite Racing is one which we are very proud of here at MITS and we are delighted to be partnering with them again in 2023," said Edward Tudor, CEO of MITS.
"This is now the second year that Penrite/Grove have partnered with MITS, after an enormously successful campaign in 2022, which raised an incredible $40,000 for our school. To put this into perspective, this supports three young students to attend our school and boarding program for a year.
For 2023, Grove Racing has already put down the first $15,000 in donations with the goal of exceeding last year's total, and will auction the race suits of all three, Payne, Reynolds and Herfoss to raise funds for the schooling of Indigenous children through MITS.
Stephen Grove, Executive Chairman of Grove Racing, explained to Speedcafe that it had to be more than a livery for the Hidden Valley event, but a deeper engagement and awareness of MITS and Indigenous culture.
"For me, I mean, from day one, it was just so important that it's not [just] a sticker on the car and us saying 'we've that we've ticked that box and we've done the thing'," Stephen Grove, Executive Chairman of Grove Racing, told Speedcafe.
"If we can't contribute and we can't give back, and we can't thank the people of Darwin for what they've done, and we can't recognize what we're trying to achieve in celebrating an Indigenous culture, for me, it's no point – I'd rather not put a sticker on the car.
"I am very passionate about it, not just these specific guys, but I'm very passionate about the ability to give back – I think we have an obligation to do that."
A link to the auction site can be found here.
Round 5 of the 2023 Repco Supercars Championship at Hidden Valley will take place on June 16-18, 2023.