Sato fastest in final Indy 500 practice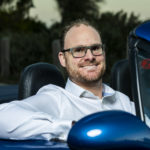 Takuma Sato has posted the fastest time on Carb Day in final practice at Indianapolis Motor Speedway, giving Chip Ganassi Racing (CGR) yet another session P1 ahead of Sunday's Indy 500.
The two-time winner, who also topped the opening session of 2023 Indy 500 practice and will start from eighth in this year's race, laid down a 227.855mph lap at 39.4988s ahead of CGR team-mate, Scott Dixon.
"The 11 car is just getting to a nice feeling, which is exactly what I really wanted," Sato said. "My boys did a fantastic job the entire week. The organization did fantastic, so I'm happy."
Stan Sport is the only way to watch every round of the INDYCAR SERIES. Click here for all the action streaming ad-free, live and on demand.
Dixon – who was also second behind Sato on Wednesday and missed out on a third consecutive Indy 500 pole position after qualifying sixth – made it a CGR one-two, despite a car that the New Zealander described as "out of balance".
Australian Will Power – the only non CGR driver to top a session all week after going fastest in Monday's Practice 8 – claimed third with a lap of 226.953mph.
Penske Team-mates Scott Josef Newgarden (225.766mph) and Scott McLaughlin (225.565mph) were ninth and tenth respectively.
Pole-sitter Alex Palou was fourth fastest for CGR at 226.945mph, with the fourth CGR entry of last year's winner, Marcus Ericsson, the outlier in 18th (224.751mph).
RESULTS: 2023 Indianapolis 500 Qualifying.
Long Beach winner Kyle Kirkwood (226.872mph) was fifth fastest for Andretti Autosport, with Juncos Hollinger Racing's Agustin Canapino (226.532mph) the highest-placed rookie in sixth splitting the Andretti entries of Colton Herta (226.300mph) and Romain Grosjean (226.286mph) in seventh and eighth.
Unlike Monday's Practice, which saw Katherine Legge and Stefan Wilson collide, with Wilson hospitalised with broken vertebrae and ruled out of the race, the last session ahead of the Indy 500 itself was incident free.
Wilson's absence has seen Graham Rahal, who was knocked out the event by Rahal Letterman Lanigan team-mate Jack Harvey on Bump Day, take over the #24 Dreyer & Reinbold Racing (DRR) entry that Wilson had qualified in 25th before the crash.
The 107th Indy 500 takes place from 12:45 EDT Sunday May 28/02:45 Monday May 29 AEST.
Australian viewers can watch live and ad-free on Stan Sport from 01:00 AEST.
| Rank | Driver | Car No. | Best Time | In Lap | Best Speed | Total Laps | Difference | Gap |
| --- | --- | --- | --- | --- | --- | --- | --- | --- |
| 1 | Takuma Sato | 11 | 00:39.4988 | 21 | 227.855 | 86 | –.—- | –.—- |
| 2 | Scott Dixon | 9 | 00:39.5978 | 11 | 227.285 | 83 | 0.0990 | 0.0990 |
| 3 | Will Power | 12 | 00:39.6558 | 14 | 226.953 | 82 | 0.1570 | 0.0580 |
| 4 | Alex Palou | 10 | 00:39.6571 | 16 | 226.945 | 83 | 0.1583 | 0.0013 |
| 5 | Kyle Kirkwood | 27 | 00:39.6700 | 45 | 226.872 | 57 | 0.1712 | 0.0129 |
| 6 | Agustin Canapino | 78 | 00:39.7295 | 9 | 226.532 | 74 | 0.2307 | 0.0595 |
| 7 | Colton Herta | 26 | 00:39.7703 | 46 | 226.300 | 76 | 0.2715 | 0.0408 |
| 8 | Romain Grosjean | 28 | 00:39.7727 | 3 | 226.286 | 43 | 0.2739 | 0.0024 |
| 9 | Josef Newgarden | 2 | 00:39.8642 | 22 | 225.766 | 89 | 0.3654 | 0.0915 |
| 10 | Scott McLaughlin | 3 | 00:39.8998 | 71 | 225.565 | 81 | 0.4010 | 0.0356 |
| 11 | Tony Kanaan | 66 | 00:39.9219 | 17 | 225.440 | 59 | 0.4231 | 0.0221 |
| 12 | Conor Daly | 20 | 00:39.9329 | 11 | 225.378 | 77 | 0.4341 | 0.0110 |
| 13 | Jack Harvey | 30 | 00:39.9555 | 11 | 225.251 | 58 | 0.4567 | 0.0226 |
| 14 | Alexander Rossi | 7 | 00:39.9586 | 61 | 225.233 | 71 | 0.4598 | 0.0031 |
| 15 | Pato O'Ward | 5 | 00:39.9797 | 12 | 225.114 | 84 | 0.4809 | 0.0211 |
| 16 | David Malukas | 18 | 00:39.9967 | 38 | 225.019 | 89 | 0.4979 | 0.0170 |
| 17 | Benjamin Pedersen | 55 | 00:40.0169 | 44 | 224.905 | 82 | 0.5181 | 0.0202 |
| 18 | Marcus Ericsson | 8 | 00:40.0443 | 4 | 224.751 | 87 | 0.5455 | 0.0274 |
| 19 | Marco Andretti | 98 | 00:40.0531 | 13 | 224.702 | 56 | 0.5543 | 0.0088 |
| 20 | Helio Castroneves | 06 | 00:40.0608 | 59 | 224.659 | 87 | 0.5620 | 0.0077 |
| 21 | Ed Carpenter | 33 | 00:40.0664 | 52 | 224.627 | 73 | 0.5676 | 0.0056 |
| 22 | Ryan Hunter-Reay | 23 | 00:40.0857 | 19 | 224.519 | 34 | 0.5869 | 0.0193 |
| 23 | Sting Ray Robb | 51 | 00:40.1503 | 8 | 224.158 | 64 | 0.6515 | 0.0646 |
| 24 | Simon Pagenaud | 60 | 00:40.1618 | 38 | 224.094 | 81 | 0.6630 | 0.0115 |
| 25 | Christian Lundgaard | 45 | 00:40.1793 | 32 | 223.996 | 61 | 0.6805 | 0.0175 |
| 26 | Devlin DeFrancesco | 29 | 00:40.2077 | 60 | 223.838 | 78 | 0.7089 | 0.0284 |
| 27 | RC Enerson | 50 | 00:40.2119 | 10 | 223.814 | 63 | 0.7131 | 0.0042 |
| 28 | Felix Rosenqvist | 6 | 00:40.2175 | 12 | 223.783 | 57 | 0.7187 | 0.0056 |
| 29 | Katherine Legge | 44 | 00:40.2573 | 9 | 223.562 | 35 | 0.7585 | 0.0398 |
| 30 | Graham Rahal | 24 | 00:40.2701 | 49 | 223.491 | 77 | 0.7713 | 0.0128 |
| 31 | Santino Ferrucci | 14 | 00:40.2786 | 52 | 223.444 | 73 | 0.7798 | 0.0085 |
| 32 | Callum Ilott | 77 | 00:40.4922 | 8 | 222.265 | 66 | 0.9934 | 0.2136 |
| 33 | Rinus VeeKay | 21 | 00:40.5102 | 58 | 222.166 | 89 | 1.0114 | 0.0180 |