Wilson out of Indy 500 with broken vertebrae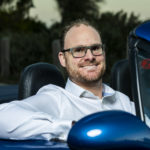 Stefan Wilson is out of the 2023 Indy 500 after injuries sustained in a collision during Monday's Practice 8.
A statement from Dreyer & Reinbold Racing (DRR) has confirmed that the 33-year-old Brit has "suffered a fracture of the 12th thoracic vertebrae" and will remain in hospital for further tests and evaluation.
Wilson's Dreyer & Reinbold Racing #24 collided with the #44 Rahal Letterman Lanigan entry of Katherine Legge on the main straight as Legge attempted to run high around the outside of Wilson.
Stan Sport is the only way to watch every round of the INDYCAR SERIES. Click here for all the action streaming ad-free, live and on demand.
The DRR statement described the incident as:
"At 2:11pm, Wilson, driving the #24 Dreyer & Reinbold Racing/Cusick Motorsports/CareKeepers Chevrolet, was struck from behind by Legge's IndyCar and forced into the outside Safer barrier in Turn 1 at the 2.5-mile oval".
The contact sent both cars into the barrier at Turn 1, with Legge's car spun to hit the wall rearwards, sliding across the track to make a second impact with the Turn 2 barrier.
Wilson's car, impeded by Legge's car, hit the Turn 1 wall nose-first, before sliding along the circuit.
Statement regarding Stefan Wilson's condition. pic.twitter.com/vOS4le2vgq

— Dreyer & Reinbold Racing (@DreyerReinbold) May 22, 2023
When the incident occurred, Wilson was 23rd fastest in the session, which was topped by Team Penske's Will Power, and had qualified 25th with a 231.648mph four-lap average for this year's Indy 500.
His best finish at the event is a 15th place in 2018.
Wilson's absence from the event raises the issue of whether Graham Rahal, who was unceremoniously bumped out of the 33rd and final starting spot for Sunday's Indy 500 by his own Rahal Letterman Lanigan team-mate, Jack Harvey.
It's not expected that Rahal will become eligible, given that Wilson's DRR entry is Chevrolet powered while Rahal is a Honda powered competitor.
Team stakeholder and 1986 Indy 500 winner Bobby Rahal has also said that his team does not wish to buy its way onto the starting grid, preferring to genuinely earn a position in the 33-car field.
The team pointed to a component failure on car #15 for missing the grid by an agonising 0.044s and 0.007mph.
When bumped out, son Graham said: "This place, you have to earn it. It's not handed out. It's not given. It's not a guarantee. We came up short."
Sign up here to receive our daily newsletters and breaking news alerts, sent straight to your inbox.