Van Gisbergen inducted into Motorsport Wall of Fame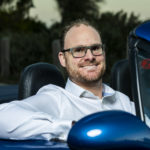 Shane van Gisbergen has been inducted into the New Zealand Motorsport Wall of Fame.
The 34-year-old three-time Supercars champion was bestowed the honour at the annual Motorsport New Zealand Awards Evening held in Wellington on Saturday night.
"New Zealand has such a proud and rich 75-plus year history in motorsport and Shane is one of the best the world has ever seen," said Wayne Christie, President of Motorsport New Zealand.
"Shane's immense talent seems to know no bounds. He's immediately quick in everything he drives and I'm looking forward to him continuing to take on new challenges throughout the remainder of what is already an amazing career."
Auckland-born van Gisbergen joins fellow Supercars drivers Scott McLaughlin, Greg Murphy, Craig Baird, Paul Radisich and Jim Richards on the Motorsport Wall of Fame.
The Red Bull Ampol Racing driver could not attend as he was competing at Round 4 of the 2023 Repco Supercars Championship at Symmons Plains, Tasmania.
The Wall of Fame was established in 1994 and does not award a recipient annually, but instead, "when an individual's achievements met the incredibly high standards of those who have been inducted before them."
Van Gisbergen was described as having, "established himself as one of the most successful and versatile drivers of his generation," reflecting beyond his immense success in Supercars, noting his 2016 GT World Challenge Europe Endurance Cup title and 2021 New Zealand Grand Prix win, the latter achieved after a pit lane start.
After sprint car and rallying events, including a WRC2 podium in his World Rally Championship debut last year, van Gisbergen confirmed that he will make his NASCAR debut for Trackhouse Racing on July 1-2 in Chicago, USA.
The New Zealander will compete through Trackhouse's Project91, which was created for cameos by global talent and saw 2007 World Drivers' Champion Kimi Raikkonen compete at Watkins Glen last August.
Van Gisbergen's adaptability is expected to be an advantage as NASCAR runs on the 3.444km street circuit for the first time.