Record Indy 500 pole for Alex Palou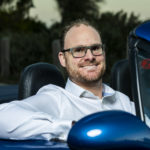 Alex Palou is the 2023 Indy 500 pole-sitter after a 234.217mph average, the fastest Indy 500 pole speed in history.
The Chip Ganassi Racing (CGR) driver fended of Ed Carpenter Racing's Rinus VeeKay, who was only 0.006mph behind at 234.211mph, with the front row completed by Arrow McLaren's Felix Rosenqvist, who led the Fast 12 and was also in the 234 bracket.
All three front-row starters were quicker than Scott Dixon's pole record set last year at 234.046mph, and with Dixon also scoring pole in 2021, Palou's makes it three in a row for CGR.
Stan Sport is the only way to watch every round of the INDYCAR SERIES. Click here for all the action streaming ad-free, live and on demand.
"It means the world to me … we knew it was going to be tight, it was really tight, but the #10 car crew, all the CGR team, they gave me the fastest car today ," Palou said. "We knew we had to go aggressive, to trim the car a lot to get a good first lap and try and be consistent. The fourth lap was really tough to keep it flat, but we did it."
"It was not ideal [watching the other competitors trying to go faster], it was tougher than doing the four laps."
This is Indy. This is May.@AlexPalou and @CGRTeams celebrates winning the NTT P1 Award.#INDYCAR // #Indy500 pic.twitter.com/qWatz6BmyO
— NTT INDYCAR SERIES (@IndyCar) May 21, 2023
The extremely small margin between the Spaniard's pole-winning time and VeeKay's makes the latter's second row bittersweet.
"I got everything out of it, but I wish I had just little bit more, it's just so tight," VeeKay said.
"Should have took a dump or had less lunch – but I mean it's so close. I think we really had a shot for a pole position, but also I'm a bit spoiled to say that, so, you know P2, still very happy – we don't win anything with this, it's only the start of the race … we'll give them hell next week."
AJ Foyt Racing's Santino Ferrucci was fourth fastest (233.662mph) and will share the second row with Pato O'Ward (233.158mph), and CGR's Scott Dixon, who had been gunning for a third consecutive Indy 500 pole.
Final 2023 Indy 500 Qualifying results here.
| Rank | Driver | Car No. | Lap 1 Time | Lap 2 Time | Lap 3 Time | Lap 4 Time | Status | Total Time | Average Speed |
| --- | --- | --- | --- | --- | --- | --- | --- | --- | --- |
| 1 | Alex Palou | 10 | 38.2765 | 38.3961 | 38.4731 | 38.5580 | – | 02:33.7037 | 234.217 |
| 2 | Rinus VeeKay | 21 | 38.2947 | 38.3954 | 38.4645 | 38.5531 | – | 02:33.7077 | 234.211 |
| 3 | Felix Rosenqvist | 6 | 38.3628 | 38.4233 | 38.4731 | 38.5121 | – | 02:33.7713 | 234.114 |
| 4 | Santino Ferrucci | 14 | 38.4070 | 38.4981 | 38.5790 | 38.5854 | – | 02:34.0695 | 233.661 |
| 5 | Pato O'Ward | 5 | 38.5017 | 38.5455 | 38.6329 | 38.7214 | – | 02:34.4015 | 233.158 |
| 6 | Scott Dixon | 9 | 38.4313 | 38.6043 | 38.6585 | 38.7125 | – | 02:34.4066 | 233.151 |