Heinrich battles to second win in Tasmania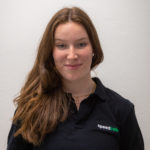 Saturday 20th May, 2023 - 3:34pm
Joel Heinrich has scored his second victory of Round 3 of the Battery World Aussie Racing Cars Super Series at Symmons Plains.
It was the #16 driver's seventh victory of the 2023 season and his calm demeanour while battling for the lead allowed him to prevail over Reece Chapman and Ryder Quinn.
The Osborn's Transport driver started off the front row after his Race 1 win alongside the youngest Quinn on the Aussie Racing Cars grid, with the latter getting a better jump off the start line.
Guest driver Quinn immediately moved into the lead in the #3 Euro GT entry.
But Heinrich and Chapman weren't far behind, taking advantage of Quinn's slipstream along the back straight towards Turn 6 to move past into first and second respectively on Lap 2.
This left Quinn third, but on Lap 4 reigning champion Joshua Anderson passed him at the hairpin to snatch the final podium position.
In a relatively clean race, the top four built a margin of more than three seconds over the pack while scrapping for the lead position.
Quinn made contact with Anderson on Lap 10 and incidentally shoved the #1 CoolDrive Mustang off the track at Turn 6. Amid the contact, Anderson locked up an inside right wheel and missed the corner, yet recovered somewhat to finish in 15th.
Lap 14 saw Chapman in the #25 Mustang into the lead at Turn 6 before Heinrich immediately hit back and retook the lead at the hairpin on the following lap.
Quinn threatened on the final lap but was unable to make a move stick, leaving him to finish third and take his second podium of the weekend.
Kent Quinn (Mustang) finished in fourth and James Ward (Mustang) rounded out the top five.
Jeff Watters will start on pole for tomorrow's Race 3 as the top ten finishers of the field will be reversed for that race.
Race 3 of the Battery World Aussie Racing Cars Super Series will begin early Sunday morning at 08:40 local time/AEST.
Sign up here to receive our daily newsletters and breaking news alerts, sent straight to your inbox.