Ericsson fastest as Ganassi tops second Indy 500 practice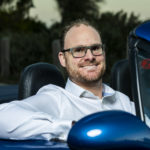 Marcus Ericsson was fastest on the second day of practice for this year's Indianapolis 500 with Scott Dixon a repeat second.
It was the second Chip Ganassi Racing (CGR) one-two in as many days, with Takuma Sato topping the timesheet in a belated first practice where Dixon also finished second-fastest.
Day 2 saw last year's Indy 500 winner Ericsson post a 229.607mph lap, besting Sato's 229.439mph from Wednesday, while Dixon improved marginally on his second day of running with a 229.186mph against his Wednesday best of 229.174mph.
Stan Sport is the only way to watch every round of the INDYCAR SERIES. Click here for all the action streaming ad-free, live and on demand.
"It was a really good day for the whole Chip Ganassi team," said Ericsson.
"Obviously yesterday we worked a lot on the race cars, worked straight away, and then today we sort of built on that, I felt, we did some changes overnight that helped me and my feeling in the car.
"I felt really happy with my race car, and then we just did some stuff for tomorrow, some preparation for tomorrow but one run in and managed to be P1 on the no-tow as well so, very positively day and hats off to the Ganassi team – the organisation has done a tremendous job again this year with preparing four really good cars."
While CGR had all four cars in the top seven on Day 1, Thursday saw them spread across the top nine, with Sato in seventh (227.818mph) and Alex Palou ninth (227.718mph).
👋 from pit lane@Ericsson_Marcus checks in after a P1 finish in Practice 2! pic.twitter.com/afSdRHNe1j

— Chip Ganassi Racing (@CGRTeams) May 18, 2023
Simon Pagenaud was third fastest at 228.681mph for Meyer Shank Racing, making it a Honda one-two-three on the Frenchman's 39th birthday.
Australia's Will Power was the highest ranked Chevrolet, his 228.577mph fourth fastest on Thursday after finishing 12th on the opening day (226.866mph).
In the reverse of Wednesday's Team Penske order, Josef Newgarden was 20th (226.013mph) while Scott McLaughlin, who was fifth fastest on Day 1, was 25th with a 225.905mph best in what the New Zealander described as a 'solid' run.
Behind Power in fourth was Andretti Autosport's Colton Herta (228.240mph) and Ed Carpenter Racing's Conor Daly (228.215mph), before Sato and the Arrow McLaren of Pato O'Ward (227.734mph) in eighth ahead of Palou.
Alexander Rossi (227.713) was tenth fastest for Arrow McLaren, whose quartet of cars are running unique liveries to commemorate the 60th anniversary of McLaren. Rossi posted the most laps, 164, on Thursday, adding to his tally of 142 on Wednesday to lead the cumulative lap-count at 306.
Practice continues tomorrow (Friday Indianapolis time) for Fast Friday, with qualifying for the 2023 Indianapolis 500 beginning on Saturday local time.
| Rank | Driver | Car No. | Best Time | In Lap | Best Speed | Total Laps | Difference | Gap |
| --- | --- | --- | --- | --- | --- | --- | --- | --- |
| 1 | Marcus Ericsson | 8 | 00:39.1974 | 20 | 229.607 | 87 | –.—- | –.—- |
| 2 | Scott Dixon | 9 | 00:39.2694 | 76 | 229.186 | 84 | 0.0720 | 0.0720 |
| 3 | Simon Pagenaud | 60 | 00:39.3562 | 66 | 228.681 | 104 | 0.1588 | 0.0868 |
| 4 | Will Power | 12 | 00:39.3740 | 71 | 228.577 | 85 | 0.1766 | 0.0178 |
| 5 | Colton Herta | 26 | 00:39.4321 | 80 | 228.240 | 103 | 0.2347 | 0.0581 |
| 6 | Conor Daly | 20 | 00:39.4365 | 31 | 228.215 | 105 | 0.2391 | 0.0044 |
| 7 | Takuma Sato | 11 | 00:39.5052 | 66 | 227.818 | 98 | 0.3078 | 0.0687 |
| 8 | Pato O'Ward | 5 | 00:39.5198 | 16 | 227.734 | 92 | 0.3224 | 0.0146 |
| 9 | Alex Palou | 10 | 00:39.5225 | 3 | 227.718 | 83 | 0.3251 | 0.0027 |
| 10 | Alexander Rossi | 7 | 00:39.5234 | 4 | 227.713 | 164 | 0.3260 | 0.0009 |
| 11 | Santino Ferrucci | 14 | 00:39.5561 | 48 | 227.525 | 57 | 0.3587 | 0.0327 |
| 12 | Graham Rahal | 15 | 00:39.6523 | 78 | 226.973 | 82 | 0.4549 | 0.0962 |
| 13 | Tony Kanaan | 66 | 00:39.6790 | 5 | 226.820 | 47 | 0.4816 | 0.0267 |
| 14 | Kyle Kirkwood | 27 | 00:39.7015 | 37 | 226.692 | 94 | 0.5041 | 0.0225 |
| 15 | Agustin Canapino | 78 | 00:39.7091 | 71 | 226.648 | 84 | 0.5117 | 0.0076 |
| 16 | Felix Rosenqvist | 6 | 00:39.7189 | 18 | 226.592 | 153 | 0.5215 | 0.0098 |
| 17 | Marco Andretti | 98 | 00:39.7239 | 57 | 226.564 | 74 | 0.5265 | 0.0050 |
| 18 | Helio Castroneves | 06 | 00:39.7357 | 99 | 226.497 | 120 | 0.5383 | 0.0118 |
| 19 | Sting Ray Robb | 51 | 00:39.7512 | 45 | 226.408 | 102 | 0.5538 | 0.0155 |
| 20 | Josef Newgarden | 2 | 00:39.8207 | 61 | 226.013 | 90 | 0.6233 | 0.0695 |
| 21 | Jack Harvey | 30 | 00:39.8281 | 55 | 225.971 | 86 | 0.6307 | 0.0074 |
| 22 | Ryan Hunter-Reay | 23 | 00:39.8317 | 23 | 225.951 | 54 | 0.6343 | 0.0036 |
| 23 | David Malukas | 18 | 00:39.8340 | 107 | 225.938 | 164 | 0.6366 | 0.0023 |
| 24 | Scott McLaughlin | 3 | 00:39.8398 | 84 | 225.905 | 105 | 0.6424 | 0.0058 |
| 25 | Romain Grosjean | 28 | 00:39.8433 | 55 | 225.885 | 123 | 0.6459 | 0.0035 |
| 26 | Benjamin Pedersen | 55 | 00:39.9234 | 60 | 225.432 | 63 | 0.7260 | 0.0801 |
| 27 | Christian Lundgaard | 45 | 00:39.9698 | 83 | 225.170 | 89 | 0.7724 | 0.0464 |
| 28 | RC Enerson | 50 | 00:39.9801 | 63 | 225.112 | 68 | 0.7827 | 0.0103 |
| 29 | Devlin DeFrancesco | 29 | 00:39.9913 | 14 | 225.049 | 52 | 0.7939 | 0.0112 |
| 30 | Rinus VeeKay | 21 | 00:39.9950 | 81 | 225.028 | 128 | 0.7976 | 0.0037 |
| 31 | Ed Carpenter | 33 | 00:40.0167 | 13 | 224.906 | 112 | 0.8193 | 0.0217 |
| 32 | Callum Ilott | 77 | 00:40.0486 | 4 | 224.727 | 71 | 0.8512 | 0.0319 |
| 33 | Stefan Wilson | 24 | 00:40.0582 | 25 | 224.673 | 53 | 0.8608 | 0.0096 |
| 34 | Katherine Legge | 44 | 00:40.1905 | 46 | 223.934 | 83 | 0.9931 | 0.1323 |