Results: Sato, Ganassi on top in Indy practice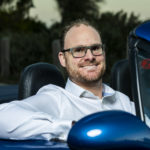 Thursday 18th May, 2023 - 9:29am
Takuma Sato has recorded the fastest lap on the opening day of practice for the 107th Running of the Indy 500 to lead a Chip Ganassi Racing one-two, all four of the team's entries in the top seven.
The prior day's scheduled running (May 16) was cancelled due to poor weather, making what was officially Day 2 of practice the first time the 34-car field made onto the Indianapolis Motor Speedway.
With a day of practice lost and the threat of rain Friday, most teams opted to run race set ups.
Stan Sport is the only way to watch every round of the INDYCAR SERIES. Click here for all the action streaming ad-free, live and on demand.
"We learned a lot today, and it was good to see the Ganassi guys at the top," Sato said. "The handling is not what I want … there is a sign to what direction we want to go in," he added.
"It's only the first day, and the tow made the speeds."
Sato's team-mate Scott Dixon laid down an early benchmark of 229.174mph on only his fourth lap, which remained the top of the totem for the majority of the marathon six-hour session.
Sato then recorded a 229.439mph lap to replace Dixon at the top of the timesheet, with AJ Foyt Racing's Santino Ferrucci the next best – and fastest Chevrolet entry – with a 228.977mph lap.
Ferrucci's lap interrupted a potential Chip Ganassi Racing trifecta, with Alex Palou's 228.720mph fourth fastest, while last year's Indy 500 winner Marcus Ericsson was seventh (227.701) to see all four of Ganassi cars in the top seven.
Scott McLaughlin completed 136 laps, more than anyone in the top ten, and was the fastest Team Penkse driver in fifth (228.473mph), ahead of Colton Herta (228.057mph), Ericsson and Ryan Hunter-Reay (227.619).
Josef Newgarden in ninth was the second-fastest Penske (227.463mph), with Marco Andretti rounding out the top ten with 226.982mph.
2022 IndyCar Series winner Will Power was 12th in the Team Penske #12 with a 226.866mph effort.
Except for a kiss of the wall by Graham Rahal's Honda, the five cautions during the session were for track inspections.
Earlier, R.C. Enerson took to the track to undertake his rookie orientation, turning ten laps in the 205-210mph range and fifteen laps at 210-215mph.
The requisite fifteen laps over 215mph were cut short when a yellow flag was called for track inspection with ten minutes remaining in the final phase, with Enerson completing his orientation later in the day.
| | | | | | | | | |
| --- | --- | --- | --- | --- | --- | --- | --- | --- |
| Rank | Driver | Car No. | Best Time | In Lap | Best Speed | Total Laps | Difference | Gap |
| 1 | Takuma Sato | 11 | 00:39.2261 | 78 | 229.439 | 92 | –.—- | –.—- |
| 2 | Scott Dixon | 9 | 00:39.2714 | 4 | 229.174 | 93 | 0.0453 | 0.0453 |
| 3 | Santino Ferrucci | 14 | 00:39.3053 | 75 | 228.977 | 79 | 0.0792 | 0.0339 |
| 4 | Alex Palou | 10 | 00:39.3494 | 56 | 228.720 | 108 | 0.1233 | 0.0441 |
| 5 | Scott McLaughlin | 3 | 00:39.3919 | 134 | 228.473 | 136 | 0.1658 | 0.0425 |
| 6 | Colton Herta | 26 | 00:39.4639 | 84 | 228.057 | 115 | 0.2378 | 0.0720 |
| 7 | Marcus Ericsson | 8 | 00:39.5256 | 65 | 227.701 | 110 | 0.2995 | 0.0617 |
| 8 | Ryan Hunter-Reay | 23 | 00:39.5397 | 56 | 227.619 | 81 | 0.3136 | 0.0141 |
| 9 | Josef Newgarden | 2 | 00:39.5668 | 94 | 227.463 | 111 | 0.3407 | 0.0271 |
| 10 | Marco Andretti | 98 | 00:39.6507 | 26 | 226.982 | 74 | 0.4246 | 0.0839 |
| 11 | Jack Harvey | 30 | 00:39.6659 | 65 | 226.895 | 78 | 0.4398 | 0.0152 |
| 12 | Will Power | 12 | 00:39.6710 | 31 | 226.866 | 118 | 0.4449 | 0.0051 |
| 13 | Graham Rahal | 15 | 00:39.6973 | 65 | 226.716 | 79 | 0.4712 | 0.0263 |
| 14 | Conor Daly | 20 | 00:39.7333 | 104 | 226.510 | 123 | 0.5072 | 0.0360 |
| 15 | Stefan Wilson | 24 | 00:39.7728 | 89 | 226.285 | 109 | 0.5467 | 0.0395 |
| 16 | David Malukas | 18 | 00:39.7982 | 86 | 226.141 | 110 | 0.5721 | 0.0254 |
| 17 | Simon Pagenaud | 60 | 00:39.7988 | 78 | 226.137 | 107 | 0.5727 | 0.0006 |
| 18 | Rinus VeeKay | 21 | 00:39.8524 | 145 | 225.833 | 151 | 0.6263 | 0.0536 |
| 19 | Alexander Rossi | 7 | 00:39.8929 | 88 | 225.604 | 142 | 0.6668 | 0.0405 |
| 20 | Pato O'Ward | 5 | 00:39.9100 | 117 | 225.507 | 122 | 0.6839 | 0.0171 |
| 21 | Benjamin Pedersen | 55 | 00:39.9149 | 82 | 225.480 | 114 | 0.6888 | 0.0049 |
| 22 | Agustin Canapino | 78 | 00:39.9242 | 48 | 225.427 | 97 | 0.6981 | 0.0093 |
| 23 | Tony Kanaan | 66 | 00:39.9528 | 44 | 225.266 | 81 | 0.7267 | 0.0286 |
| 24 | Helio Castroneves | 06 | 00:39.9727 | 66 | 225.154 | 84 | 0.7466 | 0.0199 |
| 25 | Kyle Kirkwood | 27 | 00:40.0199 | 21 | 224.888 | 108 | 0.7938 | 0.0472 |
| 26 | Sting Ray Robb | 51 | 00:40.0340 | 69 | 224.809 | 103 | 0.8079 | 0.0141 |
| 27 | Felix Rosenqvist | 6 | 00:40.0435 | 73 | 224.756 | 98 | 0.8174 | 0.0095 |
| 28 | Ed Carpenter | 33 | 00:40.0464 | 3 | 224.739 | 123 | 0.8203 | 0.0029 |
| 29 | Devlin DeFrancesco | 29 | 00:40.0778 | 88 | 224.563 | 110 | 0.8517 | 0.0314 |
| 30 | Romain Grosjean | 28 | 00:40.0802 | 82 | 224.550 | 105 | 0.8541 | 0.0024 |
| 32 | Christian Lundgaard | 45 | 00:40.1249 | 110 | 224.300 | 112 | 0.8988 | 0.0288 |
| 33 | RC Enerson | 50 | 00:40.1755 | 25 | 224.017 | 29 | 0.9494 | 0.0506 |
| 34 | Callum Ilott | 77 | 00:40.2849 | 66 | 223.409 | 80 | 1.0588 | 0.1094 |