First laps at new Townsville track as 'Wall of Champions' is launched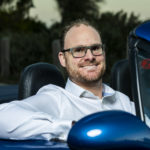 The first laps of the new DriveIt NQ facility in Townsville have been completed ahead of the circuit's first public event later this month, with the day used promote the venue's 'Wall of Champions' project.
The invitation-only 'Soft-Lap Track Day' saw stakeholders and supporters head onto the new Driver Education Motor Sports Precinct layout for the first time, helping to 'polish' the surface ahead if its first public event proper planned for later this month.
"It's a bit of a pinch myself moment, really," said Greg Fitzgerald, Director and Chairman of DriveIt NQ.
"We finally have the end product, which is our 2.7km racing circuit …  we're 18 odd years into this, and you know, we talked about it, and you talk yourself up, and in my mind I knew it was going to happen but saying it and having it are two different things – it is truly awesome goosebump material."
MORE: Queensland Friends of Motorsport initiative launched.
The Precinct, at 132 Bidwilli Road in Calcium, Queensland, is around 40km south of the Townsville CBD, and is a permanent circuit designed to meet various standards including FIA as well as ANDRA approvals.
The venue was constructed with significant government support as Fitzgerald and the team now look beyond the milestone opening.
"The funding that we've received from federal and state governments really is only to build the bare bones of the precinct," he said.
"The idea is that once we get events up and running, generate some income, plus some for some more brands and we will, we will expand what you see here.
"In fact, I don't think it'll ever stop expanding, you know, but next five to 10 years are going to be pretty exciting as far as infrastructure goes."
Part of the next step includes a call for businesses to be part of the 'Wall of Champions'.
"The Wall of Champions is a program around building the concrete safety barrier around the track, and we've put together a prospectus so that businesses around Townsville can get their teeth in and be a part of what we're doing out here."
"That [involvement] will be reflected in that piece of wall carrying their advertising for a number of years and some stainless-steel plaques and some other recognition."
While public activities are planned for later this month, the Townsville track's first major event will be the Boneyard Grand Prix on July 14-16, 2023.