D'Alberto does the double in TCR Practice 2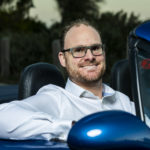 Tony D'Alberto has picked up where he left off with the fastest time in Practice 2 for the Supercheap Auto TCR Australia Series at Phillip Island.
The Honda driver led the field for the second session in a row, with an even faster time of 1:37.3361 after topping Practice 1 earlier in the day with a 1:37.6178.
Only four of the 13 drivers have set times in the 1:37s across both practice sessions, with D'Alberto joined by Zac Soutar in Practice 1, Bailey Sweeney in both sessions and Lachlan Mineeff in Practice 2.
Stan Sport is the only way to watch every round of the SpeedSeries. Click here for all the action streaming ad-free, live and on demand
Mineeff set the first 'warm' lap time for the second session with a 1:40.2126 ahead of Michael Clemente with a 1:41.0966, before the first serious efforts saw Mineeff and Clemente remain at the head the field with a 1:38.1780 and 1:38.7267 respectively.
Sweeny and D'Alberto subsequently took positions two and three, with a 1:38.6428 for the Hyundai driver and 1:38.7180 for the 2022 Series champion, with Mineeff's earlier time still the fastest until he posted an even better 1:37.7889 seven minutes into the session.
Clemente's earlier time had dropped him to fourth in the new Cupra, behind Ben Bargwanna and ahead of Zac Soutar's Audi RS3 sedan.
Sweeny then posted a 1:37.557 to head the field nine mins into the session from Mineeff and D'Alberto – before the latter recorded a 1:37.3361 only seconds later. Sweeny bettered his time four laps later, but his 1:37.3900 was still not enough to replace D'Alberto at the top.
Tom Oliphant was consistent, jumping into fourth behind Mineeff, yet was still to break into the 37s, with a 1:38.1614 with 20 minutes remaining. He ended up fifth in both practice sessions.
A red flag with 16:22 left on the clock was caused when Soutar stopped – however the session quickly back to green after 90 seconds as he managed to restart the #110 Audi under its own steam.
The order remained unchanged, with the top three in the 1:37s – D'Alberto, Sweeny and Mineeff – ahead of Oliphant on 1:38.1614 through to Aaron Cameron in 11th with a 1:38.8624.
As the clock read ten minutes to go, Josh Buchan knocked Oliphant's Lynk & Co out of fourth with a 1:38.1355 in the Hyundai i30N Sedan, still leaving the lead trio exclusively in the 1:37s.
Cameron improved to a 1:38.2321 in the final five minutes, good enough for eighth place after his 11th in Practice 1.
Will Brown didn't make it for Practice 2 after electrical issues that stranded his Audi RS3 sedan in the opening session, causing a red flag as it was towed back to the pits, had yet to be resolved.
The Supercheap Auto TCR Australia Series continues tomorrow with back-to-back qualifying for commencing at 11:35 local time/AEST, with Race 1 set for 16:15 local time/AEST.
Coverage begins on Saturday May 13 on Stan Sport at 11:30 local time/AEST.
RESULTS –
2023 Supercheap Auto TCR Australia Series,
Round 2, Practice 2, Phillip Island, VIC
Pos
Team
No.
Driver
VEHICLE
1
Honda Wall Racing
1
Tony D'Alberto (VIC)
Honda Civic FK7 TCR
1:37.3361
2
HMO Customer Racing
130
Bailey Sweeny (NSW)
Hyundai i30N TCR
1:37.3900
3
Forza Brakes Motorsport
14
Lachlan Mineeff (NSW)
Audi RS3 LMS SEQ
1:37.7889
4
HMO Customer Racing
30
Josh Buchan (NSW)
Hyundai i30N Sedan
1:38.1355
5
Ashley Seward Motorsport
115
Tom Oliphant (NSW)
Lynk & Co CO 03 TCR
1:38.1614
6
Carl Cox Motorsport
15
Michael Clemente (VIC)
Cupra Leon Competicion TCR
1:38.1992
7
Burson Auto Parts Racing
71
Ben Bargwanna (VIC)
Peugeot 308 TCR
1:38.2048
8
Team Valvoline GRM
18
Aaron Cameron (VIC)
Peugeot 308 TCR
1:38.2321
9
Team Soutar Motorsport
110
Zac Soutar (VIC)
Audi RS3 LMS TCR
1:38.3337
10
Valvoline Racing GRM
41
Kody Garland (NSW)
Peugeot 308 TCR
1:38.5904
11
Wall Racing
74
Brad Harris (NSW)
Honda Civic FK7 TCR
1:38.7754
11
Schaeffler GRM
33
Jordan Cox (NSW)
Peugeot 308 TCR
1:39.2062
13
MPC Team Liqui Moly
9
Will Brown (QLD)
Audi RS3 LMS TCR
No time