PHOTOS: Carl Cox Motorsport Cupra TCR livery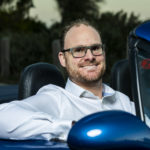 The livery has been unveiled for the Carl Cox Motorsport Cupra TCR that will race for the first time in the Supercheap Auto TCR Australia Series at Phillip Island this weekend.
The wraps were pulled of the brand-new Gen2 Cupra, which will be driven by Michael Clemente, with fresh red-and-black Ryco and Carl Cox signage after arriving in Australia less than a week ago in its plain white factory paintwork.
"We're very happy and excited to be continuing on from what we did last year with our quite striking Audi, and we've worked on a similarly striking livery for Phillip Island," Paul Moncur, General Manager of Product and Marketing at Ryco, told Speedcafe.
Stan Sport is the only way to watch every round of the SpeedSeries. Click here for all the action streaming ad-free, live and on demand.
"In terms of TCR, it's supported by one of our biggest channels in Supercheap Auto, so it's a really good opportunity to support their involvement in their category."
Clemente previously campaigned an FK7 Honda Civic Type-R, before a switch in late 2022 to a Gen1 Audi RS3 sedan from MPC for the final round at Mount Panorama, Bathurst, which also competed in at the 2023 TCR Australia season opener at Symmons Plains in February.
Cupra is the performance arm of SEAT, a Spanish brand owned by Volkswagen AG, with Clemente's Cupra Leon Competicion TCR built in Spain in the same facility in which the Audi RS3 TCRs are constructed.
Cupra as a stand-alone brand went on sale in Australia in July 2022, however TCR teams are privateer entries as factory teams are prohibited. Even the Honda-backing of 2020 Champion Tony D'Alberto is, on paper, a personal sponsorship rather than a fully-fledged factory racing operation.
Lynk & Co is also making its TCR Australia debut at Phillip Island this weekend, with the wraps pulled off Tom Oliphant's Autoglym-backed 03 TCR run by Ashley Seward Motorsport earlier this week.
Round 2 of the 2023 Supercheap Auto TCR Australia Series kicks off today, with first practice at 12:10 local time/AEST.