Cupra TCR arrives in Australia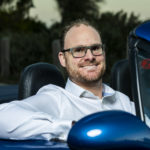 The Carl Cox Motorsport Cupra TCR has arrived in Australia ahead of its debut at the Shannons SpeedSeries next weekend.
Arriving at Melbourne Performance Centre in the city's east, the brand-new Barcelona-built Gen II Cupra will be raced by Michael Clemente for the rest of the 2023 TCR season and will be on track for the first time in Practice 1 at Phillip Island.
"This whole project started middle of last year, and when it did start, it was just a long way away, [I] didn't think anything was going to come through," Clemente told Speedcafe.
"One thing led to another and now there's one in the MPC workshop which is amazing – a massive thank you to Carl Cox."
The Cupra brand, which is part of Spanish car-maker SEAT that belongs to the Volkswagen Automotive Group, ties in with Cox's Cupra entry in Extreme E.
Clemente drove an FK8 Honda Civic Type R in the 2022 TCR Australia series, before a switch to an MPC-run Gen I Audi RS3 sedan for the final round at Mount Panorama, Bathurst.
The Melbourne-based driver finished 15th in last year's season standings, and currently sits ninth after the opening round at Symmons Plains, Tasmania, in February, where he ran the same Gen I Audi.
Clemente believes that the Cupra – his first new race car – gives him the latest platform to battle at the front of the field.
"We're ready for it," Clemente said. "We've spent the last few years learning, understanding TCR and how the cars work and how everything is done, so now that we've got our best package here we can really put our best foot forward and take it to everyone."
Team Principal David Burn told Speedcafe: "The strategic plan for us is this year is that we've got a brand-new car, we're going to be going to tracks we know, we've got a set-up that we're pretty comfortable with, or we're getting within a window.
"Our aim for this year is really just to consolidate what Mike is able to do when he's got the hardware behind him."
The hardware is somewhat proven, with World Touring Car Champion Rob Huff winning at the wheel of a Zengo Motorsport Cupra in last season's Portugal and France rounds in the now defunct WTCR.
IMAGES: Carl Cox Motorsport Cupra TCR arrives in Australia.
The Cupra brand has already been seen in TCR Australia competition, too, the previous model making a single-round cameo at The Bend, South Australia, with Tim Brook at the wheel for the final event in 2019.
Cupra was the name applied to performance trim levels of vehicles from SEAT before the brand was revitalised with its own models in 2018. Cupra opened its order books in Australian last July, and now has a four-model line-up in local showrooms.
The Spanish make is one of two new brands in the 2023 field, the other being Lynk & Co, whose 03 TCR made its track debut in a private test at Phillip Island on April 26 with Tom Oliphant at the wheel.
Both the livery for Oliphant's entry and Clemente's Cupra will be revealed ahead of both vehicles making their competition debut at Phillip Island for Round 2 of the series on May 12-14.