Borg finishes Perth weekend with historic SuperUtes clean sweep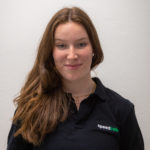 Sunday 30th April, 2023 - 5:12pm
Aaron Borg has made a clean sweep of V8 SuperUtes Round 1 in Perth after a a crazy last-lap battle with Ryal Harris in the fourth and final race.
It's only the second time in V8 SuperUtes history that a historic clean sweep, including pole position and the victory in all four races, has been achieved.
Aaron Borg won the all three of the weekend's earlier races and once again started Race 4 from pole with Harris beside him on the front row.
Harris had the better start off the line and led into the first turn, while behind him Craig Woods and Jimmy Vernon made contact, the #64 Western Sydney Motorsport Toyota Hilux becoming dramatically airborne but able to continue.
Rob McMahon in the Triple Three Racing Mazda BT-50 spun on the opening lap at Turn 3 but recovered.
Borg lined himself up for the overtake on the exit of Turn 6, but Harris came back, going side by side into Turn 7 and returning back to first place at Turn 1 of the second lap.
A three-way fight for first including Harris, Borg in the ACDelco Sieders Racing Team Isuzu D-Max and Adam Marjoram in the Motion Team Triton Racing Mitsubishi Triton and the battle for first covered less than 1.5s between the top four.
Marjoram was able to sneak past Borg at the exit of Turn 6 on Lap 2 and then move into the lead on Lap 9 with an overtake on Harris on the start-finish straight.
But Harris took back the lead on the same lap later at Turn 6, whilst Borg made his way through into second, going by Marjoram at Turn 7 as the #15 driver ran wide at the final corner.
Borg challenged Harris during the final laps and as the #58 driver went wide on the last corner on Lap 13, Borg was forced onto the grass as David Sieders closed in on the lead pair, before Borg made contact with Harris at Turn 1 to take the lead.
Marjoram and David Sieders, who started from 11th and made his way into the top positions, made their way through as Harris tried to get himself back into contention but on the final lap of the race before he spun at Turn 1 and ended up in the sandtrap, his race over.
This left Sieders in the Sieders Racing Team Mazda BT-50 to make the overtake into second past Marjoram at Turn 6 and Borg to finish his historic clean sweep of the first weekend in V8 SuperUtes around Wanneroo Raceway.
V8 SuperUtes will return for Round 2 of their 2023 season at Sydney Motorsport Park on July 28-30.