Borg goes back-to-back in V8 SuperUtes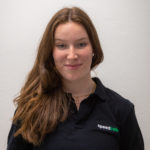 Saturday 29th April, 2023 - 5:30pm
Aaron Borg has driven through the field to take his second win of the V8 SuperUtes weekend in his ACDelco Sieders Racing Team Isuzu D-Max.
George Gutierrez started from reverse pole position for Race 2 alongside Craig Woods in the Western Sydney Motorsport Toyota HiLux.
Lap 1 saw Ben Walsh immediately challenging Gutierrez into the first corner but make contact with Gutierrez's #19 Go Sunny Solar Holden Colorado, which saw Walsh crash into the wall at Turn 1, ending his race.
Walsh parked far enough off the circuit to avoid a Safety Car deployment.
This left Woods to lead from Gutierrez, with Ryal Harris in the EFS 4X4 Accessories Toyota Hilux in third and Race 1 winner Borg in fourth from a sixth-place start.
Gutierrez overtook Woods into first place at the last corner on Lap 2, whilst Borg and Harris continued to race for the last podium position.
Lap 6 saw Adam Marjoram in the Motion Team Triton Racing Mitsubishi Triton look for the overtake into fourth over Woods – who had dropped back behind the battling Borg and Harris – but the #15 driver ran off into the sand at Turn 7 after he clipped the rear right wheel of Woods.
Marjoram was able to re-join the race but his damage from the incident left him to finish last in 16th place.
Borg made his race-winning move on Gutierrez on Lap 10, passing him at the last corner to take his second win of the weekend.
David Sieders made up the most places during Race 2 of the V8 SuperUtes, starting from 18th on the grid after a less-than-ideal Race 1 where he did not finish the race after an incident involving the #58 of Harris.
By Lap 8, the Sieders Racing team driver moved his Mazda BT-50 into the Top 5 and at the chequered flag crossed the finish line in third, making up 15 places over 18 laps.
Race 3 and 4 of the V8 SuperUtes will be on Sunday at 07:55 local time/09:55 AEST and 13:40 local time/15:40 AEST respectively.