Second win of season for Larson in Martinsville comeback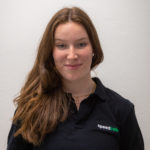 Monday 17th April, 2023 - 10:50am
Kyle Larson snatched his second NASCAR win of the 2023 season around Martinsville Speedway in a late battle with reigning Cup Series champion Joey Logano.
After racing neck and neck during Stage three, the #5 Hendrick Motorsports driver was able to gain momentum in the final laps of the race and overtake Logano for the lead with 28 to go.
Larson was able to build his lead to nearly four seconds over the pack behind him to clinch his 21st career win in a comeback win at Martinsville.
Logano had to settle for runner-up whilst Martin Truex Jr. missed the podium.
"Means a lot to me and I think more importantly, it means a lot to the whole Hendrick Motorsports family," said Larson.
"[We had been] making the right calls, having great pitstops, we had a great car.
"That was the best my car has been.
"I never, ever would have thought that I would win here at Martinsville, this place has been so tough on me, just does not suit my driving style at all."
Ryan Preece dominated the first Stage to take his first ever stage win in his career, but after leading 135 laps, Ross Chastain overtook Preece in the first lead change of the day on Lap 136.
The #41 Stewart-Haas Racing driver was then penalised for speeding in pit lane, alongside Truex Jr. and Bubba Wallace, which saw him to restart with 38 laps to go in Stage 2 from the rear. Preece finished the race in 15th.
Kevin Harvick, Chase Briscoe and Chastain all battled for the second Stage win with the former securing the win – his first since 2020 – but Harvick went on to finish in 20th after coming into pit road with a puncture with 50 laps to go.
Larson's comeback through the field to victory came after lining up on the grid in 19th place after Saturday's Qualifying in Martinsville.
His teammate, Chase Elliot who had been out of racing for several weeks due to a broken leg, rounded out the top 10 in his first race back with the victorious Hendrick Motorsports.
NASCAR will race again next weekend at Talladega Superspeedway on Sunday April 23 15:00 local time/Monday 24 05:00 AEST.