Porsche 963 takes first win, Matt Campbell on podium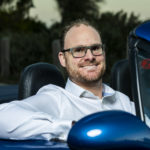 The Porsche 963 has taken its first victory after a chaotic IMSA sprint race at Long Beach.
Mathieu Jaminet and teammate Nick Tandy drove the #6 Penske Porsche the victory in the first-ever sprint race for the reborn GTP class, a 100-minute timed race, after the Wayne Taylor Racing Acura of Ricky Taylor crashed out during a passing attempt on the race leading Porsche at Turn 1 with less than two minutes remaining.
Taylor had been stalking both Penske Porsches, having chased down the #7 Porsche of Matt Campbell for third and the #25 BMW of De Phillippi for second before arriving on the back of the #6 Porsche in what looked like an inevitable win for the flying Acura.
The crash handed Jaminet the win ahead of the BMW, with the second Porsche of Matt Campbell into third.
The start of the Sprint saw Sebastien Bourdais spin the #1 Chip Ganassi Cadillac making a passing attempt for second on Albuquerque's #10 Acura, with an early caution period when the #60 Acura of Blomqvist was spun by one of the BMWs.
The pole-sitting #10 Acura lead early but had fallen to fifth when Taylor took the wheel for the final dramatic stint. He moved to fourth when the Sebring-winning #31 Action Express Cadillac made its final pit-stop, and chased down both Porsches, who had the #25 BMW driven by De Phillippi in between after Campbell was passed.
With two minutes to go, Taylor looked set for victory – yet his Turn 1 move ended the #10's race and handed the win to Porsche, the chequered flag waved after 78 laps.
In GTD, the Vasser Sullivan Lexus RC-F of Jake Hawksworth and Ben Barnicoat – which looked set of pole yesterday before the session was red flagged, leaving the #27 Aston Martin of Marco Sorensen on top – won, ahead of the #3 Chevrolet Corvette of Antonio Garcia/Jordan Taylor, with the #9 Pfaff Porsche of Klaus Bachler and Patrick Pilet third.