Erebus drivers 'think like van Gisbergen'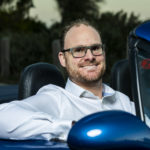 Erebus Motorsport boss Barry Ryan says that his Championship leading drivers have to think like Shane van Gisbergen to beat the reigning Supercars champion.
Coming into the 2023 Repco Supercars Championship, #99 Coca-Cola driver Brodie Kostecki had neither a Supercars pole position nor win to his name.
He now boasts two pole positions and a pair of race victories to lead the championship by 32 points over the Mobil 1 Optus Ford Mustang of Chaz Mostert and is 86 clear of reigning champion van Gisbergen's #97 Red Bull Ampol Racing Camaro in third.
Combined with team-mate Will Brown's fifth position in the drivers' standings, Kostecki has lead the charge that sees Erebus Motorsport at the top of the teams battle, 101 points clear of Red Bull Ampol Racing.
What's more, despite the Red Bull disqualification in Newcastle, the results for Kostecki and Brown have come from some brilliant race craft and performances against benchmark van Gisbergen.
In the final hit-out at Albert Park, Kostecki pushed through the pack to take the final step on the podium ahead of van Gisbergen.
"For Brodie to drive from 15th to third and actually beat Shane legitimately on track, that's a good way to do it," Erebus Motorsport Team Principal Barry Ryan told Speedcafe.
VIDEO: Erebus Motorsport Gen3 Camaro Livery Launch.
"I think we've seen enough evidence that that's the way they race. [Kostecki and Brown] They're hard racers, they're smart racers and the smart thing, probably the biggest thing was the way Will supported Brodie to get through in that race [Race 4] when he was on a hard tyre and he drove probably every bit as good as Brodie."
The team boss has heaped praise on both drivers and says that they have the capability to take it to van Gisbergen, who has dominated the series for the past two seasons, including a record-setting 21 race victories in 2022.
"You've got to think like Shane; to think like Shane you've got to do what Shane does, and that's hard to emulate but I think our two drivers are the closest to that," Ryan explained.
"They're very, very smart. They're not just thinking about driving the race car; they've got enough brain capacity left to think about how to race, which is hard to do."