ARDC partners Racing with Autism Australia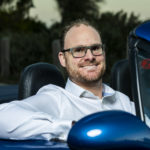 Racing With Autism Australia (RWAA) has announced a collaboration with the Australian Racing Drivers Club.
The partnership will see the two organisations first work together at Sydney Motorsport Park on Sunday April 16 during Day 2 of the Motorsport Australia NSW Motorsport Championships.
Racing with Autism Australia aims to raise awareness and acceptance of Autism Spectrum Disorder through showcasing the unique and talented individuals involved in motorsport who are on the Autism Spectrum.
"Racing with Autism Australia has two focuses," RWAA NSW Co-ordinator, David Driscoll, told Speedcafe.
"Firstly it's to provide a range of support (although not financial) to racers and their families in everything from cars and karts, through to BMX, motocross and Sim Racing; while secondly, to generally support and advocate for the wider autism community."
"The aim is to bring more people into the sport, both as participants and fans. We've worked with Supercars at a few different events – including Newcastle [Round 1 of the 2023 Repco Supercars Championship on March 10-13].
"There we met lots of people, including many who had just been diagnosed with Autism – or someone in their family who had been – coming to us with a range of questions from 'What does the diagnosis mean?' to what their diagnosed family members can and can't do."
Part of encouraging people with Autism to get involved in motorsport includes providing a quiet space for those with sensory sensitivities. Similar programs have been run for various football codes and other sporting events.
"At Newcastle, we didn't run the quiet space that was provided, but we in Tasmania last year, and we're hoping to do the same thing in Sydney. It's great to see so many sporting bodies offer this service and make their sport more inclusive."
For this weekend's Sydney Motorsport Park event, several of the RWAA's Supported Racers will be present to share their stories, from their everyday struggles to their achievements, with the goal of creating greater awareness and understanding of autism, as well as an inclusive environment. RWAA's two NSW based mentors will also be present.
Dan Holihan has Autism Spectrum Disorder but that hasn't stopped him becoming  the 2022 NSW Formula Ford 1600 State Champion, 2017 HSRCA Historic State Champion and 2007 NSKC Club Champion Dan Holihan. He also hosts the <On the Couch with Hooly> podcast, and works to educate the community at large as well as helping the current crop of RWAA racers.
Lachlan Ward, driver of the Productivity Bootcamp #117 Camaro in the Battery World Aussie Race Car Series, was 2022 category Runner Up and Rookie of the Year, will also join the April 16 event. Ward is also head coach at NSW Kart School and NSW Kart Team and has been working with drivers on the Autism Spectrum for several years.
To find out more, visit the RWAA website, or seach for the RWAA on Facebook or Instagram, or via email.