Penalty 'fuel' for Triple Eight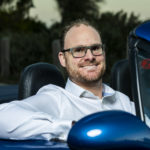 Jamie Whincup says that Red Bull Ampol Racing has been using the team's disqualification from the season-opening race as motivation to get back to the top of the championship battle.
The team was unceremoniously disqualified after a one-two finish in Race 1 of the 2023 season at Newcastle – a penalty that it unsuccessfully appealed – hitting back with a win in Race 2 for Shane van Gisbergen the next day.
It then went on to win two of the four races at the Beaurepaires Melbourne SuperSprint, with a win apiece for van Gisbergen (Race 4) and team-mate Broc Feeney (Race 6), who now sit third and seventh in the Drivers' points respectively.
"No, it actually fueled the field, the morale," Whincup told Speedcafe after Albert Park.
"You know, we all felt we felt pretty hard done by and we didn't deserve that penalty we got [in Newcastle].
"That only fired us up to come out strong [in Melbourne] and beyond.
"If anything, it helps; but I'd rather have the points – I'd rather have that the first win of the year, and the points.
"But hey, we can't get that back, all we can do now is look forward."
When asked if the championship points it lost due to the penalty meant the team has to push even harder in its quest for the title, Whincup suggested that it galvanised its determination.
"It's good for the spectacle, but it's not justice," he said.
"We felt like we worked harder than anybody else and we dropped two cars on the grid, and we one-two in the first race and we you know, unfortunately, that's, that's history now, and we're never going to get that back.
"But as I said, all we can do is put that energy into trying to make us stronger moving forward."
Supercars CEO Shane Howard was somewhat sympathetic to the team, and Whincup's public criticism of the decision, however, was steadfast on the penalty when questioned.
"Yes, they've done an incredible job, that team in designing these cars, and there's been incredible workload as the whole of pipeline has done to produce and debut the [Gen3] cars," Howard said.
"And we understand it because we know the effort that's gone into it, but it can't be an excuse for non-compliance … you have to comply with the rules."
Triple Eight Race Engineering heads to Perth second in the Teams' standings, 101 points behind Erebus Motorsport's 897.