Jones calls for better Supercars front bar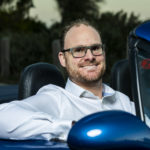 Brad Jones Racing driver Macauley Jones has suggested that Gen3 Supercars move away from the current carbonfibre front bars due to cost and complexity.
Speaking on the Brad Jones Racing Run Down podcast, the #96 Pizza Hut Camaro driver explained that the multi-piece front bars are fragile, costly and time-consuming to repair – an issue exacerbated by short supply.
"Yeah, honestly, like you're tapping a kerb or tapping a tyre bundle, and they're falling apart. So that's a little bit of a worry, I think," Jones said.
"It's not like we have heaps to replace them with. So it's not like you could tap one kerb and then it's like, 'Okay, well we need to replace that' but it's kind of hard to just be doing that."
The front bar of both the Gen3 Camaro and Mustang is a two-piece item, with a carbon 'undertray' and a separate 'fascia'.
"I think they're like $4000 apiece, you know," said Jones.
"So hopefully we can make something that's not carbon for that in the future, because I just don't think it needs to be carbon … it does look cool, but yeah it's probably something in the future that maybe we could try finding some other sort of material to change that."
The comments come in the wake of Supercars working with the teams to reduce the costs of the Gen3 Camaro and Mustang, whose introduction was intended to result in machinery that is cheaper to both operate and repair.
"There's a few things on the cars that aren't probably as strong as what we want or need them to be actually," Jones added.
"I mean, our style of racing we want to be banging doors and we want to be bumping kerbs."
The sentiment echoed by Tickford Racing's Tim Edwards, who said that the Gen3 Supercars are 'arguably not as robust' as their predecessors, following James Courtney's crash into the wall in the Top Ten Shootout at the Newcastle season opener.
The #5 Snowy River Caravans Mustang chassis had to be sent to PACE Innovations in Queensland for repairs despite at an estimated total cost, according to Edwards, of $100,000.
Fellow Tickford drivers Cam Waters and Declan Fraser also saw damage to their Mustangs over the opening weekend in what provided the first real-world assessment of the repairability of the Gen3 Supercars.
Despite this, Red Bull Racing's Mark Dutton says while the front bar for the Gen3 Camaro does require a different method when compared to the ZB Holden Commodore Supercar, its complexity does bring benefits.
"It's more complex to assemble than the old one because it's multiple pieces, so that you can save more pieces," Dutton told Speedcafe.
"So for example, from what was damaged in Shane's [Practice 1 crash at Albert Park] was the front grille, so that's the plastic piece we'll replace, and then the undertray was damaged," he explained.
"But the front facia looked good. The rear mounting on the inside all looked good, so there'll be a lot of salvageable components. Even the splitter undertray – the wear pads that are now removable – they'll all be salvageable.
"So the amount that you save from a crash like that is a lot more than the previous one. So yeah, that's where the complexity comes back to pay."