Sydney to host first local TCR World Tour round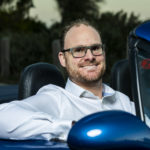 Sydney will host the first round of the Kumho TCR World Tour to be held in Australia.
Motorsport Australia has confirmed that the inaugural TCR World Tour, which has already confirmed a round at the Supercheap Bathurst International, will join the Supercheap Auto TCR Australia series at Sydney Motorsport Park on November 3-5, 2023.
The announcement means Sydney Motorsport Park will be the seventh of nine rounds of the inaugural Kumho TCR World Tour, ahead of the Supercheap Auto Bathurst International, which will host Round 8 the following weekend, November 12-13.
The final round of the TCR World Series will take place in Macau on November 19-20.
Significantly, the Sydney round will be both the maiden TCR World Tour event in Australia and the first TCR World Tour race anywhere be held under lights, using the state-of-the-art 132-light setup at the track for Supercars events in 2020.
"The opportunity to see more international level motorsport on two of our most iconic circuits is certainly an exciting prospect," said Eugene Arocca, Motorsport Australia CEO.
"This is certainly a boost for TCR in Australia and will also be an economic boost for NSW, both in the western Sydney and Bathurst regions with many competitors, officials and fans expected to attend each event. The Supercheap Auto Bathurst International will be a brilliant way to conclude the Shannons SpeedSeries for 2023."
A joint effort between the Australian Racing Group (ARG), Motorsport Australia, the Australian Racing Drivers Club, Sydney Motorsport Park and the WSC Group, the owner of TCR trademark and technical regulations, enabled the event to be locked in.
"We are pleased to formalise this deal that will see two weeks of world-class motorsport in New South Wales," said Liam Curkpatrick, Chief Operating Officer, Australian Racing Group
"To have the best TCR drivers and teams come to Australia is great for our local competitors, really testing themselves against the world. And to conclude the Supercheap Auto TCR Australia Series with back-to-back rounds at Sydney and Bathurst is going to bring a lot of excitement and interest to TCR."
The event locks in the final date of the 2023 Shannons SpeedSeries.
Both Sydney and Bathurst TCR World Tour events will be broadcast on Stan Sport (Australian residents), plus free-to-air coverage of Saturday, including Sydney's night race, on the Nine Network's channels.
The first round of the 2023 Kumho TCR World Tour takes place at Portimao, Portugal, on April 28-30.