Aussie Hughes takes USF2000 win in Sebring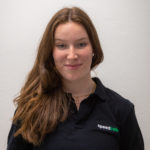 Sunday 26th March, 2023 - 1:53pm
Australian Lochie Hughes has won Race 3 of the 2023 USF2000 season around Sebring International Circuit after a battle with Simon Sikes to clinch his second victory of the season.
Sikes finished in second, but claimed bonus points for scoring pole position and the fastest lap of the race whilst Hughes' Jay Howard Driver Development team-mate Evagoras Papasavvas completed the Sebring podium positions.
Sikes and Hughes battled from the start line to the final lap of the race for the lead after Hughes had launched off the start line in better fashion to overtake the pole-sitter into Turn 1.
But, a red flag stoppage on the opening lap to remove the cars of VRD team-mates Zach Ping and Nikita Johnson off the track pulled the Gold Coast driver back with the pack and on Lap 9, Sikes briefly passed into first.
Hughes was able to regain the lead at Turn 19 and as Lap 12 saw Sikes again aim to clinch a win for his team Pabst Racing, the Augusta native had to settle for second place as the Australian was able to fight off his last-ditch efforts.
"The race was pretty solid…managed to get into the lead at the first corner. I just sent it in there and hoped for the best," said Hughes.
"[Pulled] a gap and then the red flag came out, which was a bit annoying, and I tried to get the best restart possible.
"I managed to do that and pulled a little bit of a gap again but the slipstream here is so big that Simon was able to catch up. It was tricky out there because the track was so slippery compared to how it has been all weekend.
"It was good to just make no mistakes, which was hard because Simon was starting to catch me. He passed me and I was able to pass him back and then hold off on the last lap so it was good racing there in the end."
Hughes continues to top the championship standings with 85 points, ahead by 11 points to Sikes in second.
The Grand Prix of Sebring continues with a second qualifying session and Race 4 of the season on Sunday (local time).