First Ford victory for 2023 as Logano wins in Atlanta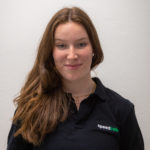 Monday 20th March, 2023 - 12:17pm
Joey Logano claimed his first NASCAR Cup Series race of 2023, edging out his former teammate Brad Keselowski by a mere 0.193s at the chequered flag in Atlanta.
The reigning NASCAR Cup Champion dominated from the green lights, starting off pole and leading for 140 laps before Keselowski was able to challenge and the battle went down to the last lap of the race.
Christopher Bell finished the race on the third step of the podium, battling through the pack after starting at the back of the grid after a penalty for unapproved adjustments to his #20 Toyota.
Logano took the first stage win, while Austin Cindric was able to inch ahead and take his first stage win of 2023 in Stage 2.
With 71 laps remaining, a crash involving 12 cars at the front of the pack occurred after Kevin Harvick lost control of the #4 Stewart-Haas Racing Ford at the entrance of Turn 2, crashing heavily.
William Byron appeared on his way to a third consecutive victory in 2023 but was forced to retire early after being caught up in the melee.
The last laps of the race were led by Keselowski, but with a push from Bell on the back stretch Logano was able to take the lead on the outside of the final two corners and take his first Atlanta victory.
"Yeah, first off so special to win Atlanta for me," said Logano,
"So many memories of me and my dad racing right here on the quarter-mile. This is the full circle for us."
"To finally win here means so much to me here personally.
"We lost our track position there for a minute, but was able to just stay patient and work on it and this amazing fast race car allowed me to really make some great moves on the race track, and getting the push there on the last lap to get to the outside of Brad," Logano said.
"Just getting to break the plane of his back bumper was gonna be my only chance there, and I was able to get him there and get the push from the 20 [Bell] on the back stretch. Overall, just a really fast Ford Mustang is what it came down to."
This was Ford's first victory of 2023 after the Chevrolet drivers dominated the first four races of the season.
Next Sunday, the NASCAR Cup Series is at the Circuit of the Americas in Austin, Texas beginning at 15:30 local time/ 06:30 Monday AEDT.
2009 F1 World Champion Jenson Button will make his NASCAR debut in the #15 Rick Ware Racing Ford, as Kimi Raikkonen will compete in his second race with Trackhouse Racing's Project 91 Chevrolet.