Lobko dominates Formula Ford opener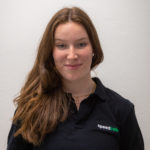 Sunday 19th March, 2023 - 12:27pm
Zak Lobko has dominated the early part of the Formula Ford weekend in Morgan Park this weekend, claiming both pole position and the Race 1 victory in the category.
This is Lobko's first pole and win in the National Formula Ford Series since joining the category last year.
The top ten cars in qualifying were separated by only one second from the CHE Racing driver's qualifying time of 1:17:60s.
Matt Hillyer finished second in qualifying with a 1:17:842s and a time of 1:18:022s put Jake Santalucia into third.
The 24-car field lined up for Race 1 and Lobko lost the lead of the race at the outside of Turn 1 to Hillyer.
They swapped positions throughout the race before Hillyer ran wide through Turn 3, allowing Lobko to clinch the top spot and take his first win of 2023.
Another battle throughout the field was for the last podium spot of Race 1 with Jake Santalucia and Eddie Beswick. Beswick had to settle with fourth whilst Lachlan Strickland closed out the top five.
Formula Ford is back at Morgan Park Raceway today with a 12-lap race and a finale race of 18 laps to close out the weekend.