Skaife critical of SVG: 'Respect is really important'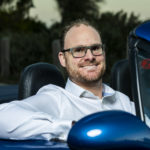 Mark Skaife has said that Shane van Gisbergen has a responsibility to the fans to engage with media after the Red Bull driver's unwillingness to answer questions in this afternoon's Supercars post-race press conference.
Van Gisbergen had won the race from fourth on grid, making use of fresher tyres to hunt down the Ford Mustang of Chaz Mostert – yet the talking point was the contact between the pair at Turns 9 and 11 as van Gisbergen took the race lead.
The win came following van Gisbergen and team-mate Broc Feeney's disqualification from first and second places respectively in Race 1.
Van Gisbergen pointed to the issues of the last 24 hours as a reason not to speak with media, repeating that "all the talking was done on the track."
In the aftermath of that tense press conference, Fox Sports commentator and five-time champion Skaife criticised the race winner's unwillingness to respond to even basic media questions about Race 2.
"When you're the champion, you have an ambassador's role in this sport," Skaife said.
"And although you might not want to make any more comment, you actually have a duty as a custodian of the sport to say what you need to say about the results and what's gone on today.
"We've been in some pretty tense press conferences over the years when, you know, blokes have been fired in the fence and stuff's gone on.
"And that's part of the history and the rivalry and the authenticity of what we do.
"Now, whether he agrees, obviously, he won't be liking disqualification from yesterday. He's come in today angry about how it is. But there is a duty of care. There is something about being the champion driver, and the ambassador for the sport.
"If you're a media person from anywhere in this country, and you want a comment about Supercar racing, the first person you ask is Shane van Gisbergen.
"He has a duty under that scenario, as one of the highest paid, the Absolute Bloke who's been the benchmark operator, there's no one in this industry that in any way, shape or form would ever contend on his driving talent and his incredible talent and his ability is extraordinary.
"But you do off the track, have a duty, and that's [behaviour] is not right"
"You never heard an Allan Moffat or Russell Ingall not answer a question in a press conference; they might have been not as liked for instance, as a Peter Brock – who was the golden child of this stuff – but at any point, there is a duty and I think your point about respect is really important."
Skaife's comments were backed up by fellow commentator, and van Gisbergen's former Bathurst co-driver, Garth Tander, during the Supercars broadcast.
The Triple Eight driver's lack of engagement follows a media blackout by Dick Johnson Racing after the team endured a tough Race 1, then came home 16th and 19th in Race 2, with Anton De Pasquale lapped by van Gisbergen.