Mostert: SVG move was 'cheeky'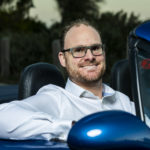 Chaz Mostert has described the move late in Race 2 at the Thrifty Newcastle 500 that cost him the lead as "a little bit cheeky" while Ryan Walkinshaw has called it a "classic Shane move".
The new Repco Supercars Championship leader was being caught by Shane van Gisbergen, who'd won yesterday's season opening race before being disqualified for a technical infringement, in the closing stages of the race.
At Turn 9, van Gisbergen – who was on 12-lap fresher tyres – put the nose of the #97 Red Bull Ampol Racing on the outside of Mostert's Mobil 1 Optus Mustang, with Mostert clashing with the Camaro as he brought the Mustang back onto the racing line.
The move unsettled Mostert, bumping him off-line, enabling van Gisbergen to switch back up the inside.
"Yeah, look at it's obviously the smallest amount of overlap there," Mostert said post-race. "But these cars are quite hard to see. But if it was me in that position, I probably would have got out of it a little bit earlier and started to turn in, but anyway, it is what it is.
"Obviously they're looking at it; I'm not even sure, but it's cheeky, but I'm sure he probably would have got me anyway, but I would at least like to have a crack to defend."
The contact didn't end there, as the pair headed towards the Turn 11 hairpin. With van Gisbergen ahead, Mostert put the Mustang's nose into the rear bumper of van Gisbergen – almost the same move with the cars the opposite way around – yet Mostert lacked the grip and snapped into oversteer on the way out of the corner while van Gisbergen recovered to stay ahead – and win the race by 4.49s.