Lack of in-car roll-bar cost Kostecki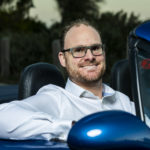 Sunday 12th March, 2023 - 11:10am
Race 1 pole-sitter Brodie Kostecki says that a pit-stop anti-roll bar change thwarted his hopes of fighting back to the front during the final stint of the 95-lap season-opening race at the Thrifty Newcastle 500.
Kostecki had topped Practice 3, Qualifying and then locked in pole position in the Top Ten Shootout with strong single-lap pace in the #99 Coca-Cola Camaro.
The Erebus Camaro then led the field for the opening stint ahead of Tickford Racing's Cam Waters and the two Triple Eight Camaros of Broc Feeney and Shane van Gisbergen but struggled during the opening stint for pace. Kostecki would cross the line in fifth place, ahead of team mate Will Brown, which became third and fourth with the disqualification of both Red Bull Ampol Racing Camaros.
"Yeah, didn't sort of have a very good race car then," Kostecki told Speedcafe.com following the 95-lap race.
"I definitely was struggling quite early … the of rear of the car wasn't hanging on too well, so was trying to drive the car straight and, you know, get good exits. And I was a lot stronger in Cam [Waters] in some, sections, and he was a lot better than me through the midpoint of the track.
"These things are going to happen sometimes. Obviously being the first ever race in these cars, and obviously we came out of the box strong in last three sessions – putting it on pole was good but yeah, sort of found one way to get good one-lap speed but it wasn't too good of a race run.
The front roll-centre change in Kostecki's second stop didn't deliver the desired gain, made worse by the lack of in-car roll-bar adjustment – something that was present in the Gen2 ZB Commodore and Ford Mustang – which meant that the Erebus driver couldn't remedy the problem from the driver's seat for the final stint of the 95-lap race.
"It definitely didn't help so we have to think a bit little a little bit bigger than that. But um, yeah, didn't help at all. So just goes to show if we had an in-car adjustment it wouldn't help me at all," Kostecki joked.
It's expected that the Gen3 Supercars will have in-car adjustment by mid-year.
"I've got a few ideas on how we can make it better for tomorrow, so I'm not too worried. We'll get it tuned up and see how we go."
Qualifying for Race 2 starts tomorrow at 11:15 local time/AEDT.