David Reynolds storms to Race 2 Provisional Pole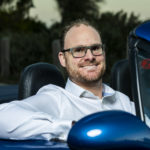 Penrite Racing's David Reynolds has posted the fastest time in qualifying for Race 2 of the 2023 Repco Supercars Championship at Newcastle. The Grove Racing Mustang driver posted a 1:11.482 to finish 0.4872s ahead of Cam Waters, with James Golding third with a 1.11.5328.
Recently proclaimed Race 1 winner Cam Waters topped the timesheet early with a 1:12.005, with  Chaz Mostert next before Will Brown slotted in between the pair in the #9 Erebus Camaro.
Cameron Hill then parked the nose of the #35 Truck Assist Camaro facing the wall at Turn 9, after losing the rear-end on entry and tagging the opposite fence, damaging the rear bumper.
The yellow flags saw the majority of the field pit, but an out-of-sequence David Reynolds was back track to post a 1:11.8159 in the #26 Penrite Racing Mustang to bump Waters off the top spot, ahead of James Courtney, Mostert and Brown – while the Red Bull Ampol Racing drivers were yet to turn a lap at the halfway point of the 20-minute session.
Waters then went quicker, into the 11s with a 1.11.8405 which was not enough to displace Reynolds – but next lap reeled off a 1.11.5677 to push Reynolds into second.
PremiAir Racing's James Golding then knocked Waters off the top spot with a 1.11.5328, while Todd Hazelwood, with a 1.11.7799, slotted his CoolDrive Mustang into third behind Waters and ahead of Reynolds and Mostert.
Brodie Kostecki – yesterday's polesitter – fitted softer springs to the #99 Erebus Camaro, having been only 13th fastest with six minutes of the session remaining. Further down the order, Anton De Pasquale sat in 17th while teammate Will Davison was the quicker of the two Dick Johnson Racing Mustangs in sixth.
Reynolds then regrouped with an on-edge lap with a fastest sector 1 and 3 to go fastest with a 1.11.4872, with the order Reynolds, Golding, Waters, Hazelwood, Mostert, Davison and the second Penrite Mustang of Matt Payne. Shane van Gisbergen was eighth with Red Bull Ampol Racing team Broc Feeney 21st with three minutes left of the session, while Reynolds parked his Grove Racing Mustang for the session, running out of sequence.
Waters was fast again, setting purple sectors, and while  his 1:11.5019 saw him jump Golding for second, it was not enough to replace Reynolds as the fastest.
Feeney jumped into seventh with 60s left on the clock, with van Gisbergen jumping to fourth (1.11.6314) and Tim Slade in fifth (1:11.7236).
At the chequered flag, no one could match David Reynolds, who will be the last car out in this afternoon's Top Ten Shootout.
Kostecki could only manage 15th, while neither DJR car made the Shootout, with Davison 11th and De Pasquale 21st.
The Top Ten Shootout will take place at 12:35 local time/AEDT.
Results: Qualifying for Race 2, Thrifty Newcastle 500
| | | | | | | |
| --- | --- | --- | --- | --- | --- | --- |
| Pos | Num | Team/Sponsor | Driver | Car | Fastest lap | Split |
| 1 | 26 | Penrite Racing | David Reynolds | Ford Mustang GT | 1:11.4872 | |
| 2 | 6 | Monster Energy Racing | Cameron Waters | Ford Mustang GT | 1:11.5019 | 0:00.0147 |
| 3 | 31 | Nulon Racing | James Golding | Chev Camaro ZL1 | 1:11.5328 | 0:00.0456 |
| 4 | 97 | Red Bull Ampol Racing | Shane van Gisbergen | Chev Camaro ZL1 | 1:11.6314 | 0:00.1442 |
| 5 | 400 | Nulon Racing | Tim Slade | Chev Camaro ZL1 | 1:11.7236 | 0:00.2364 |
| 6 | 25 | Mobil 1 Optus Racing | Chaz Mostert | Ford Mustang GT | 1:11.7727 | 0:00.2855 |
| 7 | 3 | CoolDrive Racing | Todd Hazelwood | Ford Mustang GT | 1:11.7799 | 0:00.2927 |
| 8 | 5 | Snowy River Racing | James Courtney | Ford Mustang GT | 1:11.8829 | 0:00.3957 |
| 9 | 34 | Truck Assist Racing | Jack Le Brocq | Chev Camaro ZL1 | 1:11.8873 | 0:00.4001 |
| 10 | 88 | Red Bull Ampol Racing | Broc Feeney | Chev Camaro ZL1 | 1:11.9056 | 0:00.4184 |
| 11 | 17 | Shell V-Power Racing Team | Will Davison | Ford Mustang GT | 1:11.9491 | 0:00.4619 |
| 12 | 19 | Penrite Racing | Matthew Payne | Ford Mustang GT | 1:11.9594 | 0:00.4722 |
| 13 | 8 | R&J Batteries Racing | Andre Heimgartner | Chev Camaro ZL1 | 1:11.9752 | 0:00.4880 |
| 14 | 18 | DEWALT Racing | Mark Winterbottom | Chev Camaro ZL1 | 1:12.0349 | 0:00.5477 |
| 15 | 99 | Coca-Cola Racing by Erebus | Brodie Kostecki | Chev Camaro ZL1 | 1:12.0467 | 0:00.5595 |
| 16 | 55 | Castrol Racing | Thomas Randle | Ford Mustang GT | 1:12.1023 | 0:00.6151 |
| 17 | 9 | Coca-Cola Racing by Erebus | William Brown | Chev Camaro ZL1 | 1:12.1233 | 0:00.6361 |
| 18 | 20 | Hino | Scott Pye | Chev Camaro ZL1 | 1:12.1237 | 0:00.6365 |
| 19 | 14 | Middy's Racing | Bryce Fullwood | Chev Camaro ZL1 | 1:12.1251 | 0:00.6379 |
| 20 | 2 | Mobil 1 NTI Racing | Nick Percat | Ford Mustang GT | 1:12.1473 | 0:00.6601 |
| 21 | 11 | Shell V-Power Racing Team | Anton De Pasquale | Ford Mustang GT | 1:12.1874 | 0:00.7002 |
| 22 | 35 | Truck Assist Racing | Cameron Hill | Chev Camaro ZL1 | 1:12.2086 | 0:00.7214 |
| 23 | 96 | Pizza Hut Racing | Macauley Jones | Chev Camaro ZL1 | 1:12.3099 | 0:00.8227 |
| 24 | 56 | Tradie Racing | Declan Fraser | Ford Mustang GT | 1:12.3138 | 0:00.8266 |
| 25 | 4 | SCT Motorsport | Jack Smith | Chev Camaro ZL1 | 1:12.9461 | 0:01.4589 |