Courtney crashes out of Newcastle Shootout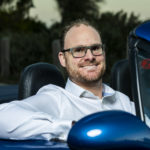 James Courtney has crashed out of the Top Ten Shootout at Newcastle.
The Snowy River Caravans Mustang clipped the wall at Turn 7, which sent the car into the following wall, causing significant damage to the front end.
The preceding two Shootout competitors – the Chevrolet Camaros of Broc Feeney and Jack Le Brocq – had mentioned that the Newcastle East Street Circuit was slippery following a significant crash in the Aussie Racing Cars Championship support category prior to the Shootout.
"It's just frustrating – there's oil down there, so just trying to get in as close to the wall as I could to get around on the inside, but on the exit obviously too close, clipped the wall and show's over," Courtney said.
"James is fine – it wasn't that big a hit", said Tickford Team Principal, Tim Edwards.
Asked whether the #5 Mustang will be repaired in time for this afternoon's Race 2, which starts at 15:05 local time/AEDT, Edwards added:
"It'll literally just come down to whether we've got all the parts, everybody knows there's a shortage up and down pitlane of a lot of the parts – until we actually get into it we won't know – but it's done the radiator etc – it's gone in fairly deeply. Anyway we'll see when we get it back."
Courtney had enjoyed a solid weekend, qualifying eighth to make today's shootout, after also finishing eighth in Race 1 at Newcastle yesterday afternoon from 12th on the grid.
Fellow Tickford driver Cam Waters qualified second for this afternoon's race, while David Reynolds achieved the first pole position for the Gen3 Ford Mustang.