'Please explain' for 'bizarre' Randle pit lane incident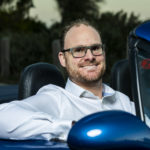 Tickford Racing Team Principal Tim Edwards is bewildered as to why Thomas Randle was given a penalty after a pit-lane drama in Saturday's Race 1 at the Thrifty Newcastle 500.
The #55 Tickford Mustang came in for its second pit stop of the season opening race on Lap 56 and was given a 15s penalty after coming into contact with the Chevrolet Camaros of Scott Pye and Jack Le Brocq.
"It was pretty full on," Randle told Speedcafe.com.
"We actually were having a good race up to that point. I think we were sort of running with JC [James Courtney] and Pye, and we were racing Pye and Le Brocq, came into the pits then sort of about eight seconds left of fuel, Car 6 [Cam Waters] started setting up [for a pit stop]," Randle explained.
"[It] just made it very tight on the exit. I was told to go and I went – but obviously there wasn't enough room because [of] Scott Pye, so then moved out of the way to try and let him through and tried to merge, and then my right front got the left rear of Le Brocq."
Edwards said that it was Randle who lost out in what was a preventative manoeuvre from the Castrol Mustang.
"Matty's [Roberts, Tickford Team Manager] going up there for a please explain," Edwards told Speedcafe.com.
"I don't know that he [Randle] could have done much more and by my observations, they didn't run into the back of his car he actually got out of their way. So seems like a very bizarre judgement."
Randle said that the incident thwarted what was looking like a positive result in the first outing for Gen3 Supercars.
"From there I had so much toe-in on the right front, I just had so much right-hand down, so … I was lucky that we – glad we finished it," he said.
"Obviously we got the 15s penalty finished 19th [but] I really thought that the pace was there up until then for a 10th, 11th-spot finish, but we go again tomorrow."
The Thrifty Newcastle 500 continues tomorrow, with qualifying at 11:15 AEDT before a Top Ten Shootout at 12:35 AEDT for Race 2 of the 2023 Repco Supercars Championship, which starts at 15:20 AEDT.