'No expectations' from Heimgartner after topping first Gen3 Practice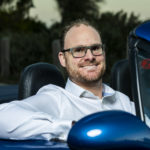 Andre Heimgartner has 'no expectations' for the rest of the Thrifty Newcastle 500 despite topping the opening practice session, which was the first for the Gen3 Supercars.
The Brad Jones Racing driver put his R&J Batteries Chevrolet Camaro to the top of the time sheets with a 1:11.9958s late in the session on what was his 18th of 20 timed laps. He was 0.1813s ahead of the Will Brown Coca-Cola Chevrolet Camaro, with David Reynolds the fastest Ford in third place in his #26 Penrite Racing Mustang.
"It means absolutely nothing … I actually have zero goals or expectations," Heimgartner said following the session. "I'm just going out there seeing what we've got, see where we sit – you know – and then we'll just work from there."
Heimgartner set the time on green tyres while other competitors are yet to run fresh Dunlops.
"I'm pretty sure everyone that ran them then would have liked to have done another set and build a bit more on top because they're like, ah, there's time there.
"There's time there. So we won't really see a true indicative time, I don't think, until we get to sort of qualifying where people could put a few sets on and really try to extract that last sort of half a second.
"In that session, we were just going around just trying to pick up; it's so different these cars, how they hit the kerbs, that confidence and this track – especially to bleed off the brake and carry the speed, you really need to build up to that, because obviously, if you just misjudge and slightly are in the wall and the limited paths we have here, but it's building up to that,"
It's the second consecutive session that Heimgartner has topped, with the New Zealand driver having been fastest at Sydney Motorsport Park in the first all-in test for the Gen3 Supercars field.
While nine of the Top 10 were Chevrolet Camaros that rain-affected day, team boss Brad Jones suggested there was little to read into Heimgartner's pace – an approach the driver is maintaining.
"I'm not going to be upset if we're tenth instead of being first, so it just is what it is. We've just got to control what you can control and just chip away."
Supercars Practice 2 starts at 13:45 AEDT this afternoon.