Gracie chases Bathurst return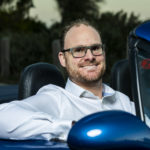 Former Supercars driver Renee Gracie has confirmed a new bid to return to Supercars, specifically the Repco Bathurst 1000.
The two-time Bathurst entrant confirmed to Speedcafe.com that she is actively pursuing a 2023 wildcard entry into the Supercars Championship endurance race at Mount Panorama, as well as the preceding Sandown 500.
Furthermore, the quest for the drive will be the subject of a Stan Original Documentary entitled 'Revealed: Renee Gracie' which will air in 2024.
The documentary has been described as "an unconventional success story that will follow Renee's journey back into racing and her intention to re-enter as a wildcard for the iconic Bathurst 1000 race".
Gracie left Supercars in 2017 after stints in both the top-tier category and Super2 feeder series.
"When I left Supercars, just mentally I was drained, I was so unhappy," she told Speedcafe.com.
"I hated the way I was getting treated, I hated the way people spoke about me, talked about me, just internally when I left I wasn't in a great space mentally.
"It was very, very tough and not a lot of people have seen or understand it, but it was something that was really tough towards the end and that's why I started to leave the sport, because I just lost passion for and I got over it, it's as simple as that."
Now, the 28-year-old is seeking a return with a new mindset and support – and the promotional opportunities offered by the Stan documentary.
"I was obviously looking at it [a return to Supercars] a couple years ago, just fishing around ideas, asking a few questions and talking to a few people," Gracie added.
"I just had a few setbacks and obviously had some negative things said towards me in regards to things that Supercars had said in statements they had made and stuff like that, so I just put it on the backburner for a little bit.
"I think at the time, potentially, I felt that it wasn't comfortable, maybe it didn't feel right, I just wanted to make sure that all the ducks in a row, all the stars aligned and everything worked out."
"It just always ticked along in the background, I was always talking to people and, you know, fishing out ideas, meeting people and yeah it sort of come to the time now where I've been working on it for all that time since then," she explained.
"A few things have come up and a few opportunities have presented themselves and it's something that I think I'm ready for."
Gracie openly honest about difficulties of potential Supercars return
In order to enter the Bathurst 1000, Gracie would need to lodge an application for a wildcard entry with Supercars and align herself with a team that owns a Gen3 car.
At present, a Supercars spokesperson told Speedcafe.com that "no application for a wildcard" has been received from her for this year's Great Race.
However, Gracie has expressed a willingness to compete with any team, although cited the fact that securing the support of a team has proven to be a difficult task to date.
"Anyone that will have me, that's been the biggest issue," she confessed.
"I have spoken to a few people and obviously some people aren't happy to have me in their corner.
"Some people have sponsors and obligations and people that they have to maintain and keep happy and unfortunately, they're not happy if I'm in the picture.
"So the biggest thing of all of this is navigating the difficult situation and the sensitivity of the fact that it's me.
"That's the biggest hurdle that I'm going to have to overcome."
Gracie believes Gen3 could favour her chances
Ahead of a potential return to the sport, Gracie believes that the new Gen3 regulations could play to her advantage.
"It works in my favour because it is so new and I think that's another reason why it's sort of working out as well," she explained.
"It's new, exciting times and I think being out of the car for so long, and getting back into something new, it's not like I'm changing habits, or it's not like I've spent so many years in one car that I've had to change driving style or how I feel about the car etc, so I don't actually think it's going to hinder me I think it's probably going to work for the best."
Gracie has posted two starts in the Bathurst 1000, both alongside Swiss driver Simona De Silvestro, in 2015 and 2016 respectively.
In 2015, the duo became the first all-female driver line-up to enter the enduro since Melinda Price and Kerryn Brewer in 1998.
Ultimately, Gracie and De Silvestro finished the 2015 race in 21st, with repairs needed to be carried out on the Prodrive Racing Australia entry after Gracie ran into oil and crashed at Forrest's Elbow early in the race.
The following year, the pairing finished two laps down in 14th in a Nissan Altima.
In addition to her two Bathurst starts, Gracie competed in three seasons of the Dunlop Super2 Series, with Paul Morris Motorsport and Dragon Motor Racing respectively, finishing 18th, 19th and 23rd in the standings.
Since stepping away from Supercars, Gracie has kept sharp with the occasional go-kart outing.
Production on the 'Revealed: Renee Gracie,' documentary will begin this year ahead of its airing on Stan.
Comments are closed.