Moffat takes second Trans Am win after red flag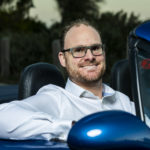 James Moffat has won a dramatic Race 2 in the National Trans Am Series after a red flag ended the race after 12 laps.
A slow moving Mustang of Ben Grice – who'd been leading the race – was collected at speed by James Simpson's #782 Dodge Challenger, which rolled and ended up sliding along the Symmons Plains front straight on its roof.
Both drivers walked away from the incident without serious injury as the race was suspended.
"Obviously a bit of a strange finish," said Moffat after the red flag. "I hope everybody involved in that incident is okay – you never want to see that sort of stuff. I'm not quite sure if Gricey had a problem coming out of turn six, but yeah, we had another fast car so that was great – we'll regroup and go again for Race 3."
Grice led the pack after the rolling start from James Moffat and Owen Kelly, returning fire after Moffat had beaten the #3 Mustang from pole in yesterdays' race.
Lap 2 saw Robotham on Dalton for fourth , while Brett Holdwsorth – already up two places – looked to capitalise on the dicing duo. Thornburrow in eighth by Lap 4 was the biggest climber, having started twelfth.
Tim Slade's five-second post-race penalty after coming home third yesterday saw #19 Mustang start from thirteenth place and saw him eleventh after the opening lap – until a serious incident on Lap 4.
Tom Hayman in #30 locked up on the approach to the hairpin, taking out Slade who was ahead to send him into the fence, the pair narrowly avoiding Adam Barbour's #12 Camaro.
Slade didn't make it back to the pits, ending up parked after the hairpin, and while Hayman did make it back there was too much damage on the drivers' side front of his Mustang to continue.
"I went down the back straight, Slade was going around the outside of someone – all of sudden I hit the brakes … I might've misjudged it and I ran up the back of him. Sorry to the boys at The Racing Academy for that," said Hayman.
The Hyundai Safety Car was called with Grice, who was sporting damaged rear bodywork after contact from Moffat exiting the hairpin, the pair ahead of Kelly, Dalton – who was still holding of Jaylyn Robotham – Brett Holdsworth, Edan Thornburrow, Tyler Everingham, Adam Garwood and Simpson.
Moffat denied suggestions that he was trying to spin the lead Mustang of Grice.
"Nah, definitely wasn't trying to do that," he said. "There'd be no point in doing that at the start of the race, start of the championship, so just a little bit of front-to-rear contact, which is not unusual at the hairpin. I don't really think it affected either of our races."
Lap 9 saw the restart battle with Grice staying at the front from Moffat, the pair gapping Kelly by more than second on Lap 10 as Moffat had a look down the outside exiting the hairpin on Lap 11 – but couldn't make it stick. Moments later, the drama began to unfold as Grice's Mustang suddenly slowed and Moffat flew past to take the lead.
That started a chain reaction of events, as Simpson collected the slow-moving Grice Mustang around the final corner, flipping the 19-year-old's Challenger before it landed on its roof and slid along the front straight before coming to a stop having rolled back onto its wheels. The race was red flagged before being declared on Lap 12.
The results saw Moffat win from Kelly, Dalton, Robotham, Thornburrow, Holdsworth and Everingham, with Barbour, Gillis and Garwood rounding out the top ten.
Trans Am Race 3 starts at 15:25 AEDT this afternoon and is live and ad-free on Stan Sport for Australian viewers, with live and free global streaming outside Australia via Speedcafe.com here.