Moffat takes clean sweep on Trans Am debut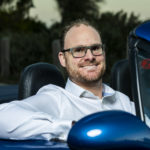 An untouchable James Moffat has made it three wins from three races in his first National Trans Am Series weekend for a commanding championship lead.
The 38-year-old remains undefeated in the series after taking out Race 3, adding that to victory in a tumultuous Race 2 and solid wrestle with Ben Grice in Race 1.
Moffat's sole copybook blemish was missing out on Race 1 pole to Grice, who'd also challenged him in race 2 until a massive incident on Lap 12 ended the race, and saw Grice taken to hospital for medical checks after his Mustang was hit by James Simpson's Dodge Challenger.
"Think I've found my happy place!," said Moffat post-race. "Fantastic weekend, can't thank everyone at Team Valvoline GRM enough and obviously form a team point of view to have one-two-three on the podium for the weekend – the work the guys have been doing back at the workshop, can't thank them enough."
Moffat led from start to finish, as Lap 1 saw Tyler Everingham clash with Brett Holdsworth under braking, as Robotham backed up the pack into the hairpin.
Garwood was the only mover in the Top 10, climbing to seventh but damaging the front guard of his Dodge Challenger in the process. He held onto eigth place until the damage forced the Camaro to pit on Lap 4.
On track, Elliot Barbour passed Jett Johnson for P10 on Lap 3, as going into Lap 4 the top seven positions remained as per the starting order, with Moffat leading.
Barbour was up five places in eighth, Johnson up a single spot as he got back into ninth (thanks to Garwood's pit) with Gillis tenth.
Moffat began to gap the field – as #4 of Mark Crutcher was muscled off the circuit by John Holinger after Crutcher out braked himself into the penultimate corner.
Moffat's biggest challenger Owen Kelly went off from position two on Lap 6, spinning twice coming to hand Moffat an advantage of more than a second over Lochie Dalton, with Holdsworth on the attack in fourth as he looked to take the final podium spit from Jaylyn Robotham.
"We got on that oil – I think I discovered it first," said Kelly. "I ended up spinning backwards on the grass and was like, 'what just happened!' At least we clawed back some points – that's what it's about".
Kelly resumed in 12th to stage a comeback that saw him finish second overall for the weekend.
The Tasmanian wasn't alone in going off, as Barbour spun on the same lap (6) from eighth to also fall down the order.
As Moffat began to eke out his lead over Dalton, who has a similar 1.2s gap back to Robotham, Crutcher pitted as the #4 Mustang was leaking oil as a result of damage from his earlier spin.
That prompted oil flags at the hairpin on Lap 10, while the top six remained as per the grid with Cody Gillis in seventh up seven spots and Tom Hayman in eighth up an oddly corresponding eight places.
Kelly had made up two positions to be tenth, behind Johnson.
Moffat's advantage was now more than 2.2s, but the battle for second was heating up as Robotham began to mount serious pressure on Dalton.
Kelly made it past Johnson for P9, rubbing panels with the Napa Auto Parts Mustang in the process at the halfway mark, the first Trans Am race to do so without a Safety Car for across the weekend.
That wasn't to remain, as fifth-placed Tyler Everingham suffered a broken steering arm heading into Turn 1, the #27 Dream Racing Camaro rolling to a stop after Turn 2 – and prompting the deployment of the Hyundai Safety Car.
Lap 20 of the 30-lap race saw the lights on Safety Car off for the sprint to the flag.
Moffat was untouchable, with Kelly making hay to climb to sixth – two spots in a lap – while Barbour attacked Johnson on the outside of the hairpin, the two side-by-side along the straight with Johnson outmuscling Barbour to stay in ninth place.
Kelly on a serious charge took Thornburrow on the penultimate lap as the race went time certain, now in fifth behind Holdsworth as Moffat enjoyed a 0.9 sec lead over Dalton.
Robotham all over the back of Dalton on the final lap, trying everything and making contact no the last corner – but Dalton held on to second as Holdsworth was taken by Kelly for fourth as the chequered flag waved.
Moffat would win by 2.08s from Dalton, Robotham and Kelly, with Hayman recovering from his Race 2 incident to post fifth ahead of Holdsworth, Johnson, Josh Webster, Holinger and Craig Scutella in tenth place.
Moffat won the round to lead the National Trans Am Series on 200 points ahead of Owen Kelly (182) and Lochie Dalton (180).