'Devastating' end to Simpson's Trans Am weekend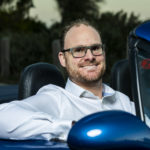 James Simpson has descried how he feels 'devastated' after the Cairns Plaza Hotel Dodge Challenger was taken out in a massive roll-over at Symmons Plains.
The 19-year-old was in 10th position as the second race of the National Trans Am Series was re-started, following a Safety Car period caused by a clash between Tom Hayman and Tim Slade which saw both drivers out of the race.
"Jett [Johnson] and I were having a bit of a battle – it's not Jett's fault at all – he put his own up the inside, I was just coming around the corner, gave him room; obviously Gricey was just parked – I don't know if he had damage or – I just had nowhere to go," said Simpson.
Grice, who'd taken the race lead from yesterday's winner, James Moffat – who'd be the eventual Race 2 winner – had been under pressure from Moffat after the restart. Earlier in the race, the pair had clashed, with corresponding damage on the nose of Moffat's Mustang and the rear of Grice's All-American Driveline entry.
As the two battled, Grice held on until his Mustang suddenly slowed at Turn 6, where Moffat and Owen Kelly blasted past – as did the majority of  the Trans Am field.
"I didn't see anything put up or anything, I wasn't notified of it," said Simpson. "I just came around the corner and collected him. Bit of a sad or devastating moment, but hopefully we'll be back for the next round."
Both Grice and Simpson were able to physically walk away from their crashed vehicles, Simpson saying: "I seem to be fine, just a bit shook – I'm just glad these cars are built strong."
Trans Am Race 3 starts at 15:25 AEDT this afternoon and is live and ad-free on Stan Sport for Australian viewers, with live and free global streaming outside Australia via Speedcafe.com here.