Moffat wins Trans Am opener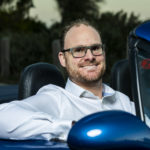 By Damion Smy
Saturday 25th February, 2023 - 4:04pm
James Moffat has converted a front-row start into victory in his first National Trans Am Series race and dedicated it to his late mother.
Grice, who pipped Moffat to pole by a mere 0.0061s at Symmons Plains earlier today, lost the start to Moffat, who kept ahead despite multiple Safety Car periods and a time-certain finish.
"Perfect way to start the year, obviously," Moffat said post-race.
"You can't do that without a fantastic team behind you, so to everybody at GRM [Garry Rogers Motorsport], thanks very much for a great car – our fantastic partners Valvoline and LMCT Plus. Really pumped for that one – that one was for my mum – I lost her a couple of weeks ago, so, that was for Sue."
Tim Slade came home third after starting seventh in his cameo drive for The Racing Academy squad.
Moffat stormed around the outside of Grice into Turn 1 on the opening lap, pulling ahead as the field ran to the hairpin for the first time. Jaylyn Robotham was the biggest loser dropping four spots to eighth, while further back, Jett Johnson was turned around by John Holinger's Camaro to be 18th and last in the Napa Mustang.
Thornburrow's Mustang dropped off the pace with an issue, limping momentarily on Lap 3 and falling to 17th in the process, as Tim Slade made progress into fifth place.
Up front, Grice stayed in touch with Moffat, 0.7s behind as the pair started to gap the rest of the field, Dalton 2.5s off the lead with Owen Kelly and Slade next on the road.
Dalton and Kelly battled, with Kelly snatching third place on Lap 6. Tim Slade took advantage of the tussle ahead of him to snatch 4th place, as Elliot Barbour – on the tail of the group – locked a brake and pulled the side after losing drive with a suspected axle issue, his race over.
The parked up Mustang prompted the Hyundai Safety Car, Johnson capitalising to pit after the damage suffered in his Turn 1 bingle.
Moffat and Grice held an advantage of more than three seconds over the field before the Safety Car was deployed, with Kelly third ahead of Slade, Dalton and Robotham. Other big movers included Tyler Everingham, who'd climbed from 11th to 8th, with Cody Gillis (11th) and Craig Scutella (14th) both four spots up in their starting positions.
The restart on Lap 12 didn't yield a result for Grice, with Moffat seemingly easily controlling the restart, before Grice mounted more pressure towards the end of the lap – but couldn't execute a pass.
Kelly and Slade in third and fourth held onto the lead pair as fifth-placed Dalton began to fall away, losing more than a second to Slade by Lap 15.
The following lap, Grice went slightly wide into Turn 6, adding to Moffat's advantage and but allowing Kelly to mount an attack, now all over the back of Grice's Mustang, with Slade poised to pounce on any skip-up from the battling pair.
The trio's battle allowed Moffat to skip away as he set the fastest lap of the race on Lap 14 with a 55.1535s – as Robotham passed Dalton for 5th place in Lap 17.
Yellow flags were waved as the #5 Gillis Mustang parked on the outside at the hairpin, its failure to restart  prompting the Safety Car yet again on Lap 19.
This offered a reprieve for Grice while presenting the pole sitter another opportunity to mount an attack of race leader Moffat, as Race Control declared the race would be time certain, five laps short of the planned 25.
A final flying lap sprint saw it all to play for, with Moffat executing a brilliant restart to gap the field and storm to victory, as Grice had to settle for second.
Behind the pair, Slade attacked Kelly at the hairpin for third, and pulled off a move around the outside – almost taking his race Academy team-mate Robotham with him in the process, but  Kelly managed to hold onto fourth.
Moffat won by 1.598s over Grice with Slade less than a second back to record a podium in his cameo Trans Am drive.
Race 2 takes place at 12:20 AEDT tomorrow, Sunday February 26, with live ad-free coverage on Stan Sport for Australian viewers with live and free global streaming outside Australia via Speedcafe.com here.