Grice takes Trans Am Pole in Tasmania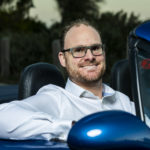 By Damion Smy
Saturday 25th February, 2023 - 1:32pm
Ben Grice has taken pole position for the Gulf Western Trans Am Series race at AWC Race Tasmania this afternoon.
Grice pipped James Moffat, with 0.0061s splitting the two Ford Mustangs, with Lochie Dalton third.
"Yeah, I fairly sent here in there," said Grice following the session. "These cars are quite a lot different now with the control shock, and my All American [Driveline] guys have been working really hard on tuning it up and getting back what we had last year, speed-wise and balance wise and what I need – so yeah, big thanks to them, real proud – it's just nice to be on pole without a floppy roof!"
The first of two 10-minute qualifying sessions for the National Trans Am Series saw combined practice times determine the order, with positions 11 through to 19 in the first session, the Top Ten following in the second run.
Tyler Everingham – announced earlier in the week as a Tickford Racing Supercars enduro co-driver – was fastest in that first session, setting a 54.9114s lap early on, but Dream Racing team-mate Adam Garwood came tantalisingly close with a 54.9135s in the #12 Camaro as he attacked the Symmons Plains layout. He wouldn't improve, with the Everingham and Garwood posting a Dream Racing one-two.
Jett Johnson recorded third-fast for the session in the Napa Auto Parts Ford Mustang (55.1006s) ahead of James Simpson, Cody Gillis, Mark Crutcher, John Holinger, Craig Scutella and Josh Webster.
"The track temp was definitely a bit lower today, I think we misjudged pressures a little bit then," Everingham said between the two sessions.
"It wasn't too bad. [I'm] still sort of learning these cars and chasing a bit of set up, we changed some things overnight which got better, but I still don't thing it's going to be enough to sort of move further up that second group – but still decently  happy, here learning, here driving cars."
Top Ten – Session Two
The fastest ten saw James Moffat instantly surpass Everingham's fastest time, with a 54.5272 ahead of Edan Thornburrow (54.5295), Owen Kelly and Brett Holdsworth
Grice and Dalton 54.4272 then took the top 2 spots, Grice with 54,2013s with half the session remaining. Moffatt would sneak between the pair with a 54.3218.
Kelly, Thornburrow and Tom Hayman were next, with Tim Slade – who had a power steering issue on Friday – was seventh, ahead of Jaylyn Robotham and Holdsworth.
With 3:45 remaining, the majority of the field regrouped in pit lane. Everingham's' fastest time from the first session was good enough to remain 10th combined at that point.
In the final run, Moffatt improved 54.2074 – just 0.0061s behind Grice, who had a moment at the hairpin on his final lap but could not be beaten.
Third was Lochie Dalton, ahead of Robotham, Kelly, Thornburrow, Slade, Hayman and Elliot Barbour. Holdsworth rounded out the ten, with Everingham's time from the first session seeing him 11th-fastest overall.

Race 1 is at 15:25 AEDT this afternoon, with live coverage on Stan Sports for Australian views with live and free global streaming via Speedcafe.com available here.