Grassfire ends TCM Quali as Johnson Mustang storms to pole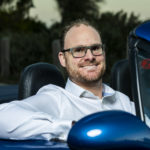 A grassfire has caused a bizarre ending to this afternoon's TCM qualifying session, which saw Steven Johnson has secure pole position for tomorrow's Trophy Race in Tasmania.
In a thrilling battle with John Bowe, the pair were the class of the field as the only drivers to break into the 55s bracket in a shortened qualifying bout after a late red flag.
The 20-minute session saw Cameron Tilley lay down the first fast lap, with a 58.9558 at the following time around, with Buzadzic in second with a 58.3919s as the rest of the field was still yet to break the 60-second mark.
John Bowe then eclipsed the pair to be fastest with a 55.932 in his Torana before Steven Johnson relegated Bowe to second with a 55.7005s to top the session, shaving that to 55.2985 as Andrew Fisher slotted into third with a 56.1408 with 10 minutes of the session left to run.
Zukanovic was next, ahead of Hansford, Buzadzic, Tilley, Williams and Burnitt completing the nine-car field.
Bowe then went faster, but his 55.6847 on his eighth lap was not enough to topple Johnson's time, set on the Mustang's fifth lap of the session.
With a little more than three minutes remaining, a grass fire near pit exit saw the session red flagged.
That thwarted any attempts to knock Johnson's Mustang from the top of the time sheets, with Buzadzic the only driver to post his fastest lap in the second half of the session, his 56.6352s on his 14th lap enough for fourth behind.