Percat latest to be caught out by Gen3 wheel nut issue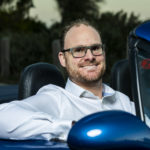 By Damion Smy
Wednesday 22nd February, 2023 - 5:23pm
Nick Percat caused a red flag towards the end of the today's Supercars Gen3 test at Sydney Motorsport Park after suffering yet another wheel nut issue.
The #2 Walkinshaw Andretti United Mustang came to a halt at Turn 10 after the left-rear (nearside rear) wheel became loose, to the point where Percat could not continue.
Upon returning to the garage following a pause in the session – which was extended as a result – a WAU spokesperson explained the problem.
"Nick had a wheel nut issue; he did the right thing and stopped as soon as he felt it, so it didn't cause any further damage," Speedcafe.com was told.
"It was our last run of the day anyway, so it hasn't really cost us any time on track, but we'll have a look back at the workshop and see what we can resolve."
The issue is ongoing following an incident with the Grove Racing Ford Mustang of David Reynolds, which suffered a wheel loss at Winton on the team's first shakedown of its new Gen3 Supercars.
Since then, Supercars has been working with the teams on a solution whereby the wheel on the Gen3 Supercars is retained using a circlip rather than large, machined tags.
It's believed that Walkinshaw was using the older set-up at Sydney Motorsport Park when the issue with Percat's Mustang occurred.
Despite this, there have been ongoing incidents across the field, with multiple teams using the new system having reported circlips separating from the wheel during today's testing.